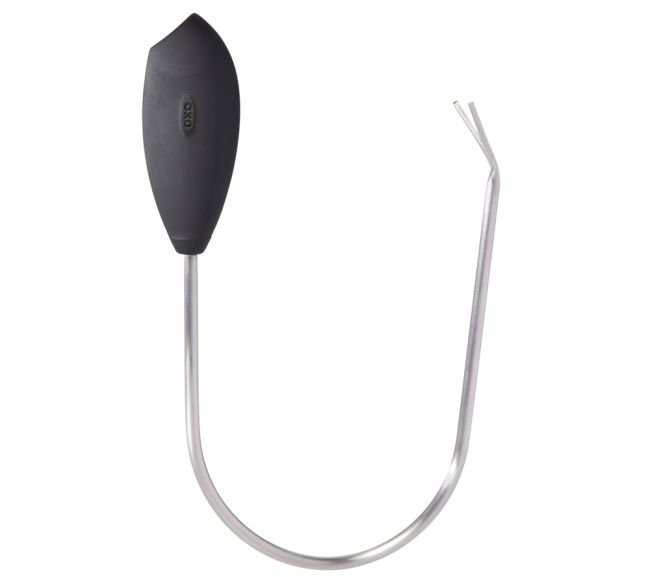 Have you always longed for a tool that makes the transfer of the turkey from the pan to the platter easy? Use the OXO Good Grips Poultry Lifter and become the perfect host at Thanksgiving dinner. Once the bird is ready, secure it with the lifter, and move it with a smooth non-slip grip movement.
Turkey cooking and stuffing is enjoyable, but shifting it from the oven to the table can cause jittery nerves to anybody. With the poultry lifter you can shift the bird from the pan to the dish in one smooth motion.
The Poultry lifter has a non-slip handle and a unique shape that enables the user to have a comfortable grip. The prongs are designed in such a way that the meat is not pierced or damaged at all. The bird is lifted from below the breast bone, so that your presentation does not get affected at all.
It is made out of top quality stainless steel, and is absolutely dishwasher safe. The solid stainless steel tine will prevent the poultry from turning and slipping. The handles are soft and absorb the pressure of lifting. The overall design of the Poultry Lifter is such that the hook offers leverage for a secure grip.
The handles can hold pressure upto 24 pounds. This product is BPA free and also comes with a lifetime warranty from the manufacturer. It can be said without doubt that this is the best kitchen tool you will find in the market for lifting a turkey form the pan to the carving board.
The basic idea to insert the pronged hook in the turkey from under the breast bone, is a winner all the way. It works its magic well with stuffed and un-stuffed birds. It can also be used on small birds like chicken, and works just fine on tom turkeys and hen turkeys too. The prongs bite into the meat, and the smart shape of the lifter evenly distributes the weight. There is a flat area for the thumb to rest on the handle, in order to create a stable, ergonomic movement. The stainless steel rod offers very little area to play – so don't worry about any sudden flexing.
OXO as a brand is very respected in the market, for offering durable and top quality products. Specialty tools and utensils generally do not figure high up on the shopping lists. And when it comes to the Poultry lifter, it sure is a sound yet cheap investment that can come handy every time you roast something in the pan.
In the kitchen, the simplest solutions are sometimes the best solutions.
Buy – $10.