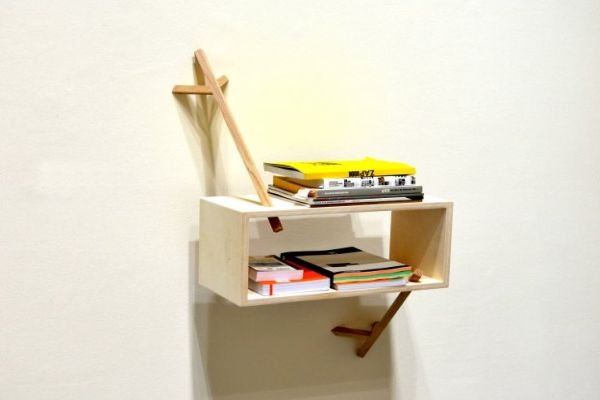 It is just us, or the PARKER shelf does seriously hint at Peter Parker aka The Spiderman with its delicate wall clinging tactics? In any case, the remarkable design baffles us with its unique visuals and the integrity of the conception. Crafted in a spatially efficient scope, the bantam shelf can come in handy in various interior scenarios. In this regard, the smallish stature of the furniture can be used as a mini bookshelf, or a novel bed side fixture or even an unobtrusive toilet stand.
In the first instance when one gawks at the shelf piece, the very sense of fragile bearing comes to the mind. This in fact was the intention of the 25 years old French designer Paul Menand. According to him, the design language alludes to this fascinating contrast of visual fragility and the real structural sturdiness of the shelf. This structure oriented balance (which is shadowed by the presumed fragility) was possible with inclusion of two 'branch' like elements that perforate the top and bottom facade of the rectangular wooden frame. Their complete opposition in the angular directions create an equilibrium which offers a good support to the shelf.

The best part about all of these is that the design unpretentiously showcases its integral structural considerations, but still manages to flummox the user with the simplicity of the craft. This simple essence is further enhanced by the minimalist wooden component (made from beech and plywood). So, basically the PARKER shelf totally eschews those fancy finishes that not only intrude upon the design concept, but also increase the price of the furniture piece.
Dimensions: height 110 cm x width 60 cm x depth 35 cm
Via: DailyDesignJoint