Over the years, interactive technology has progressed by leaps and bounds as is evident from the market domination of Microsoft's Kinect and the immersion potential of holographic imaging. However, we daresay that it is the first time that interactive interface has come to such an intimate level, and that too by virtue of its simplicity, not highfalutin complexity. We are talking about the 'Fluffy Forecast', the remarkable weather forecasting pillow, a brainchild of creative technologists Katie Koepfinger and Burcum Turkmen.
According to the designers, most of us office goers tend to check the weather as one of the primary things in the morning. In this regard, there are various scopes that allow us to check on the weather, starting from simple smartphone apps to television news channels. However, in this case, the objective of the designers was to make this info accessible from a more simpler, naturalistic perspective (as opposed to screen based devices and other paraphernalia). Hence the result was the weather forecasting pillow, one of the very first components we would notice after waking up.
Furthermore, the design is not only about conveying the weather info to the user. It is also about conveying it in a pretty straightforward manner without the intrusion of detailed figures and numbers. Thus the weather is shown through rudimentary graphical representations like the illuminated sun corresponding to sunny weather, or rains from a cloud denoting rainy weather. This makes the pillow not only an item of projecting weather forecast, but also makes it an enticing piece of home decor.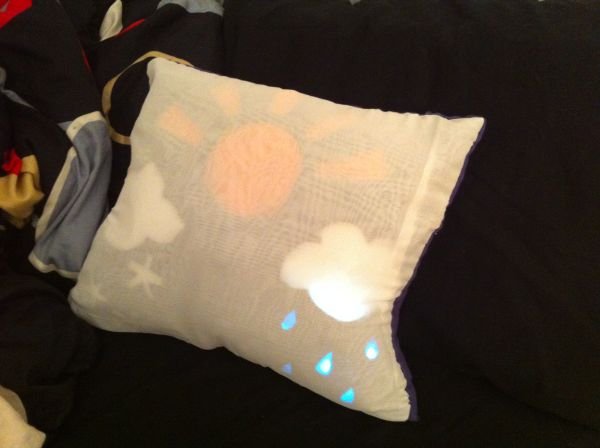 Via: BurcumTurkmen