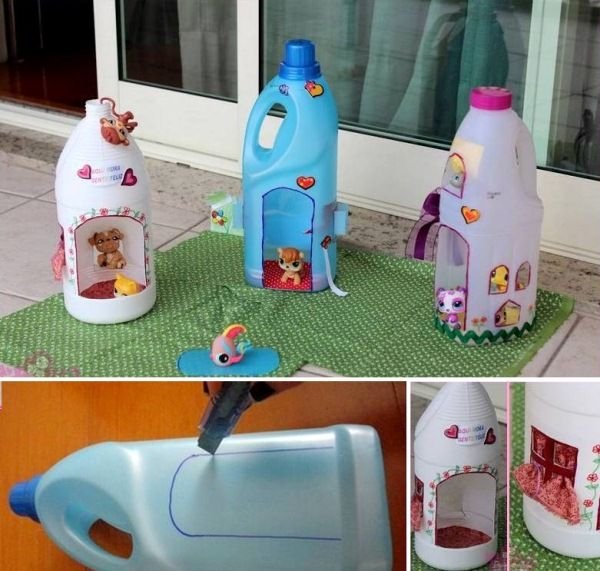 Projects for kids are always fun; whether it be an entire Adventure Time themed bedroom or deftly done drawings on school sandwiches. And now we have come across an adorable yet relatively easy DIY project that is sure to entice your kid daughters. We are talking about cute doll houses ingeniously created from an assortment of plastic containers.
The materials required for this home project are – empty cleaning supply containers, a cutting stylus, CD markers, fabric pieces, tissues, glue and adhesive. All you need to do is make an outline of the doors and the windows on these plastic containers and then cut them out with the aforementioned stylus.
With the basic structure (furnished with doors and windows) now finished, we should proceed to the next stage of 'interior decoration'. One can start off these decorations with various options at his/her disposal. For example, you can proceed by making tiny carpets and wall hangings from fabric pieces and then gluing them inside the cut out portion of the container. You can also make 'auxiliary' windows and openings with colorful pens and markers.
Finally, we have a full fledged doll house with furnishings and access points. We can now opt for further embellishments on its outer skin, which can be done by a myriad of stickers, colors and even ribbons. A group of such adorable doll houses would ultimately result in an entire 'quaint old town' proudly bedecking a good portion of your child's bedroom.
Via: GoodsHomeDesign