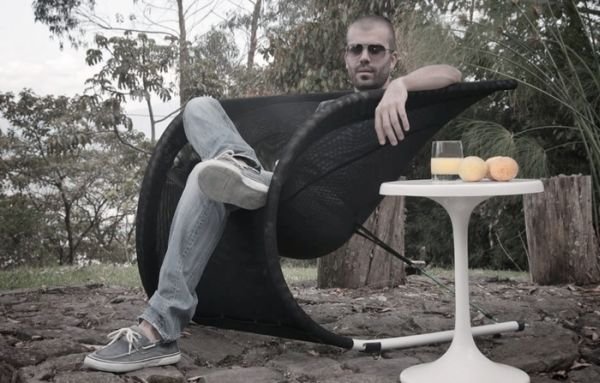 Most of you Nolan enthusiasts have come across the aptly redesigned Batmobile, Batpod and even the flying Bat. However, if you have somehow missed on imagining how the Batman's chair would look like, well think no more! This is because, according to our geek fueled visualization the Suzak chair nigh perfectly fills the role. Conceived by designer duo Jose Manuel Carvajal and Daniel Aristizabal from Colombian studio Qsto, the designer chair epitomizes the very nature of flexibility, with its own degree of 'minimalist Batman-esque' essence.
The core structure of the chair comprises of four components: an asymmetrically shaped steel frame for support, a coating of Spandex, an utterly flexible fabric that fascinatingly adapts to a myriad of seating positions and finally two elastic cords that are fixed to the frame for this very attribute of adjustability. So, in simpler terms, you can change your seating position, while the chair adjusts its elastic bearing according to your shift in weight.
This dynamic character of usage is further complimented by the avant-garde aesthetic appeal of the Suzak's structure. Moreover, according to the designers, the models can be varied by combining six different colors that correspond to the main constituents of the chair, thus giving a mathematical probability of 256 combinations. And, even beyond the visuals, the material of the high end fabric used does not get affected by external conditions like heat and allergens.
Via: TheMag