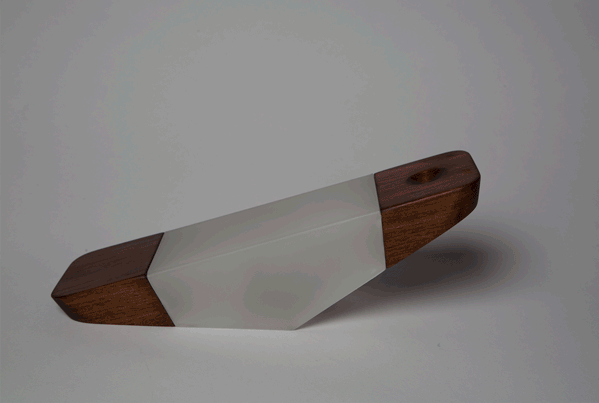 Student designer Nicholas Baker has created a light device so simple and captivating, it is almost genius. Borrowing from natural shapes, the charmingly minimalist and convenient Prism nightlight is crafted such that it can be switched on or off by tilting to one of its side.
Currently an industrial design student at Savannah College of Art and Design, Baker derived his inspiration from the creations of Japan-born industrial designer, Naoto Fukasawa. His aim was to make a night-light that flawlessly combines clever, modern design and functionality.
The Prism nightlight is indeed what its name suggests. It is a lighting device in that shape of a prism. The structure of the nightlight consists of a rough pentagon-shaped part, housing the LED lights, made of clear plastic sheet and flanked by two solid wood ends with indented holes.
The light of six LED lights produces a glow just bright enough to be used as a night-lamp. The lights can be turned on or off by flipping the lamp like a seesaw. It runs on three AAA batteries located on the inside, so you don't have to worry about messy power cords.
The Prism Nightlight is ingeniously simple, yet incredibly beautiful in design. It's smart on/off mechanism allows easy handling especially in the dark, making it an ideal choice for night-lighting purpose.
Via: Nicholas-baker