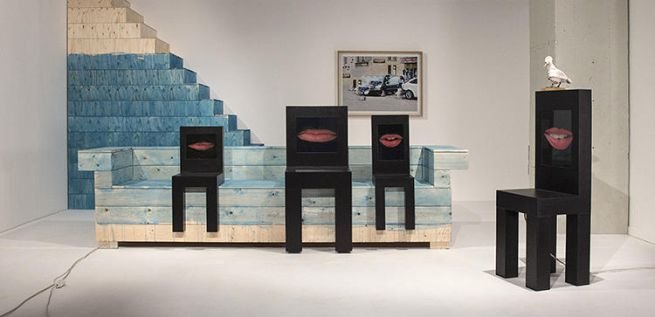 Last year, we had talked about those Christmas burning logs gloriously starring in their own movie. Well, this time around things take a more animated route with Lucas Maassen's furniture collection taking part in a sitcom. Named bluntly yet aptly as the 'Sitcom!', the characters in the comedy skit are played by the chairs themselves, with each specimen portraying an almost cliched version of its human counterpart.
Lucas Maassen's collection was conceived to be showcased at the Dutch Design Week. But the designer was not impressed by the mundane, high-brow state of affairs generally witnessed in such kinds of design events. Consequently, he started out on his 'lighthearted' endeavor of projecting the furniture collection as being animated. Each of these chairs have a screen that only show the actor's mouth, thus endowing them with human-like personalities with different voices.
The set-up of the Sitcom! involves a stereotypical family with the mom, dad and growing kids all going through their daily spats and bonding. And in a true sitcom manner, the entire 20 minute pilot was shot in front of a live audience with the 'applause laughter' making its frequent forays into the amusing scenes.
But almost unbeknownst to the common sense, the program gradually transforms into a demonstration of a furniture set, with the chairs also being the props of the show. This dual-nature of the animated furniture items is what makes the Sitcom! seriously witty in its own way.
At the end of the day, it all boils down to the impression generated by the furniture collection on the consumer's mind. In that regard, the Sitcom! will surely turn many heads. And, even beyond the ambit of commercialism, we raise our humble hats to the artistic endeavor that uniquely involves talking furniture.
Via: FastCoDesign