Ever craved for a seat that is the focal point of your living room – almost like an imposing photo or painting frame? Well, the aptly named 'Frame' by designer Ola Giertz (for Materia's 2014 range) incredibly fits the bill with its chicness. Envisioned as a expansive frame with a sublime color scheme, the furniture seat alludes to a three-dimensional picture where the user is the 'living, breathing' subject matter.
This brings forth the twist in symbolism in which the user (rather than the decor) is the object of the room. Of course, a practical furniture item shouldn't only be reliant on the intangible scope of symbolism. To that end, the Frame showcases its own brand of multi-functionality that takes advantage of the unique form-factor showcased by the 'chair'.
For example, you can perch yourself centrally along the seat, which makes you the focal point of the 'Frame'. Besides, you can climb atop the seat and rest your back against one of the vertically emerging side members. You can also align the chair against a wall facade and use the solid surface as a comfortable back-rest. And lastly, if privacy is your concern, you can arrange an array of Frame chairs to transform them into a collective cocoon-like tunnel assembly.
In fact, the materials of the furniture hint at this ambit of personal privacy, with the main framework being constructed from a molded wooden structure that is draped in sound-absorbing foam and fabric. Additionally, four nifty wooden legs made of ash, protrude from this 'pad' of seclusion – thus providing the much needed stability to the stylish design.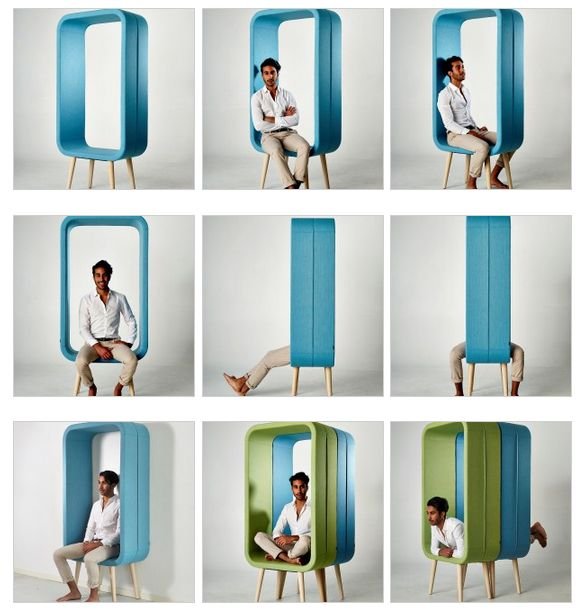 Via: Contemporist