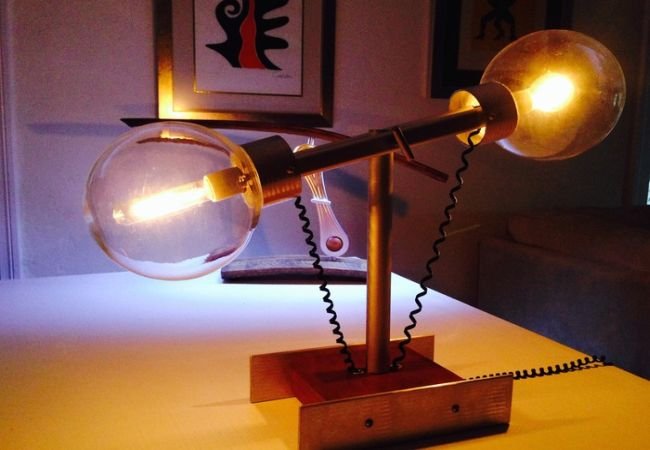 It is not often that we come across lighting inspired by literature, cinema and science. Well, cometh the hour, cometh the man – Dale Rorabaugh strikes again with his keen sense of visual aesthetics in the form of the aptly named Franken Edison Light. Billed in an outright manner as the art piece "which interprets Thomas Edison's light bulbs with Mary Shelley's Frankenstein", the design leaves no room for unnecessarily complex expositions.
Simplicity is beauty, and the simplicity (or subtlety) is this case is rightly exhibited by the sheer attention to details. By the designer's own admission, he had to watch and observe the original 1910 Frankenstein movie twice to comprehend the scope of this fascinating Steampunk-esque setup. The scientific ambit here pertains to the remarkable fact that this cinema was made by Thomas Edison's own motion picture production company, Edison Studios.
In allusion, the Franken Edison Light comprises of two 60 watts Edition bulbs (one round and one cylindrical) that hint at those dual spheres used to send lightning bolts that made Frankenstein 'alive' – a contraption better known as the Van de Graaff generator. Both of these antediluvian bulbs are contained within mouth blown glass spheres, while the entire setup is balanced by a sturdy aircraft-grade aluminum support and stainless steel fasteners.
The detailing is subtle on this meta level too, with some parts being anodized and other sections being intentionally hand-finished to bring out the robust industrial look. This flourishing visual quotient is aptly complemented by the structural fluidity of the design – which is showcased by the light's capacity to make both seesaw-like motion and rotational movement.
The good news is – the Franken Edison Light will be able to sate your Steampunk driven cravings, given the product is currently going through its almost-successful Kickstarter campaign. Pledges start from $290 for the lucky early birds who like their machine-age decor.
Dimensions – 17-inches (44.5 cm) height; 30-inches (76 cm) width from sphere to sphere.
For buying other Dale Rorabaugh designed products, you can surely check out to his retail site.