Have you overcome your childhood fantasy of bathing under a waterfall? Personally, I still really enjoy being under a fall. To bring this natural bathing experience into our homes for everyone like me, two Iranian designers Naser Nasiri and Taher Nasiri have designed Rain Soft Shower – a concept inspired by waterfall.
The ring-shaped Rain Soft shower comes in two splashing designs – small ring and large ring designs. The smaller ring enables water concentration in the center, so user can wash the body under an artificial cascade, while the larger circle – LED embedded shower ring, sprinkles water vertically around the bather.
Artistically designed main structure (vertical cabin) of the Rain Soft shower houses the hot and cold water piping and water pumping system within its solid plastic body. The structure also features hard plastic shelves for storing toiletries.
The standing shower measures 270cm high with the large and smaller ring diameters of 174cm and 114cm respectively. The Rain Soft features a small digital panel to control flow and water temperature. In addition, there is also a set of pedal attached to let the user control temperature of water with foot.
Silver A' Design Award Winner in Bathroom Furniture and Sanitary Ware Design Category, 2013 – 2014, the Rain Soft shower, is perfect for both the bathroom and the poolside, since it blows hot air to dry the body after a bath.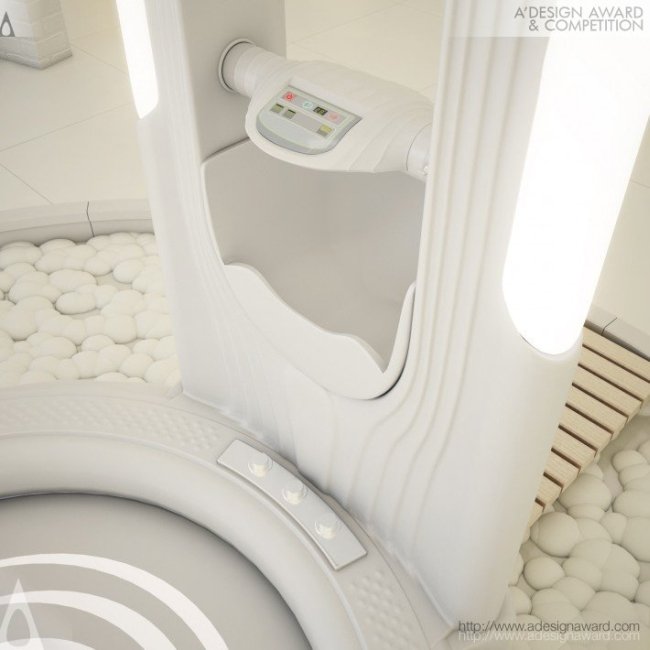 Via: ADesignAward