When the idea is to create a kitchen unit that 'disappears in space', we would say the creators (i29 interior designers) of the aptly named Invisible Kitchen have succeeded in their endeavor with aplomb. The utterly minimalist yet fascinatingly elegant system is envisioned as a kitchen furniture that not only upholds its functional features, but also vaunts its aesthetic embodiment.
In an interesting manner, the minimalism of the freestanding kitchen unit is not just defined by its classy, monolithic style; the 'minimum' scope also extends to the incredibly slim form of the design. To that end, the counter top is just around 2 cm in thickness, and yet hides all the paraphernalia of water and electrical connections.
Now of course, the svelte bearing of the Invisible Kitchen is not really tailored for storage duties. In that regard, the designers had opted for large in-wall sliding panels that form the background of the kitchen unit's installation. The white color scheme of these panels match that of the other walls of the kitchen, while at at the same providing a contrasting focus for the gracefully dark-hued kitchen system.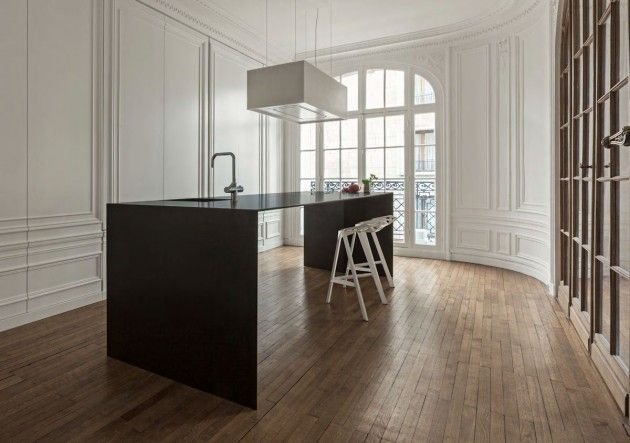 The Invisible Kitchen was created as a part of an interior designing project for an upscale Paris apartment.