We have harped about many a smart lock in the past. But what about one getting released in its second iteration? Well, Apigy, Inc., a startup based out of Mountain View, California, makes that possible with their newly unveiled Lockitron Bolt – a successor to the Lockitron 1.0.
Just like many other smart lock available in the market, the Lockitron Bolt utilizes WiFi signal for unlocking the door. And, you can control this signal via a dedicated app on your smartphone. As one can see from the GIF below, the flicking action (with the fingers) is very simple and intuitive enough – thus making the unlocking action a breeze.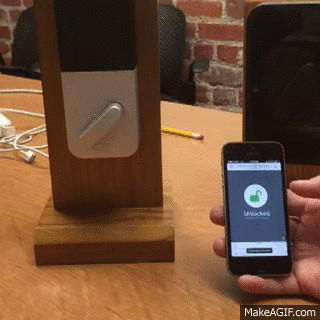 Interestingly, the Lockitron Bolt also holds a trump card of its own, and that entails its capacity to be unlocked even by old physical keys. This practical aspect is accompanied by the activity log that allows you to check on the visitor list (via the app), and a remote access feature that allows the user to let in other visitors from anywhere in the planet. And what's more, the smart lock is also being further developed to have compatibility attributes with smartwatches like Pebble and Android watch.
You can pre-order the Bolt here.