When it comes to the realm of cat furniture, we have been witness to designs driven by varied scopes like curiosity and multi-functionality. However, this time around, the comfort of your feline friend takes precedence over other factors, with the three-tiered Cat Bunker from Michigan-based Etsy shop CatastrophiCreations.
As we can make out from the images, each of the levels of the handmade Cat Bunker relates to a separate cat activity. For example, the top-most layer boasts of a plush chaise lounge that caters to the resting needs of your furry companion. On the other hand, the bottom level has a built-in dining area, while the intermediate level with its soft 'suspended' fabric, acts as an apt perching point for the cat.
These pine wood-made platforms are seamlessly connected via the ubiquitous holes that seem to be the definitive features in most cat furniture items. According to the designers, these recesses/voids will prove their value in emergency and unseen scenarios, when the restless cat might want to escape (or take a break) from the mounted assembly.
Lastly as for the simple installation, a single wooden tier can be sturdily attached to the wall facade with the help of larger 4-inch brackets (mounted with strategically spaced studs). Users can also opt for their very own customizing spacing when placing their order for the Cat Bunker.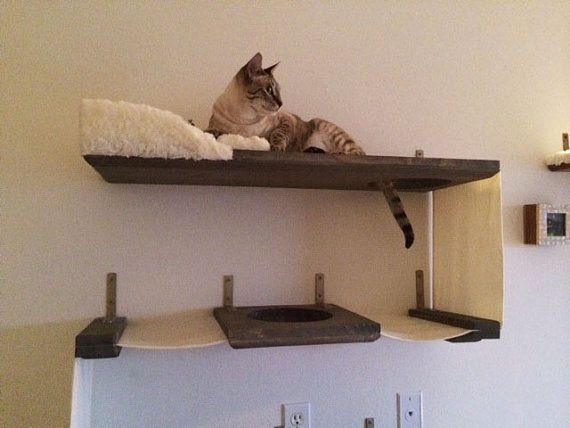 Buy – $160.