When it comes to the vast realm of home decor, rare furniture pieces with high craftsmanship values are the ones that stand the test of time. This is aptly validated by the utterly gorgeous Albero, a freestanding bookcase that was originally conceived by Italian master-craftsman and architect Gianfranco Frattini, in the 1950's. And, the good news for decor aficionados is – the elegant contrivance is once again making its ceremonious comeback, courtesy of Italian furniture maker Poltrona Frau.
Envisaged as a floor to ceiling installation, the Albero treads the vertical axis, thus making it accessible from all sides of a room. This longitudinal arrangement is achieved with an upright central pole (available in various heights) that holds on to the assortment of various cube-shaped storage spaces.
Projecting like branches of a tree, these open 'cubicles' are fully adjustable, which rather enhances the usability factor of the pillar-esque bookcase. Moreover, the entire assembly boasts of 360-degree swiveling motion that further accentuates upon the accessibility factor.
Well, so far, we have been harping about functionality. But the fascinating scope of Albero goes beyond such confines to make its descent into the ambit of aesthetics. The artistic flair of the installation emerges from its sculptural essence, which almost alludes to a deft Cubist representation of a tree.
And furthermore, the freestanding bookcase is envisioned as the centerpiece of a room. Such 'limelight' aspects are boosted by the svelte frame crafted from solid Canaletto walnut veneer, and a subtle finish with black paint. These contemporary attributes firmly establish their time-tested credentials, with the 20th century furniture effortlessly making its commercial transition into 21st century decor.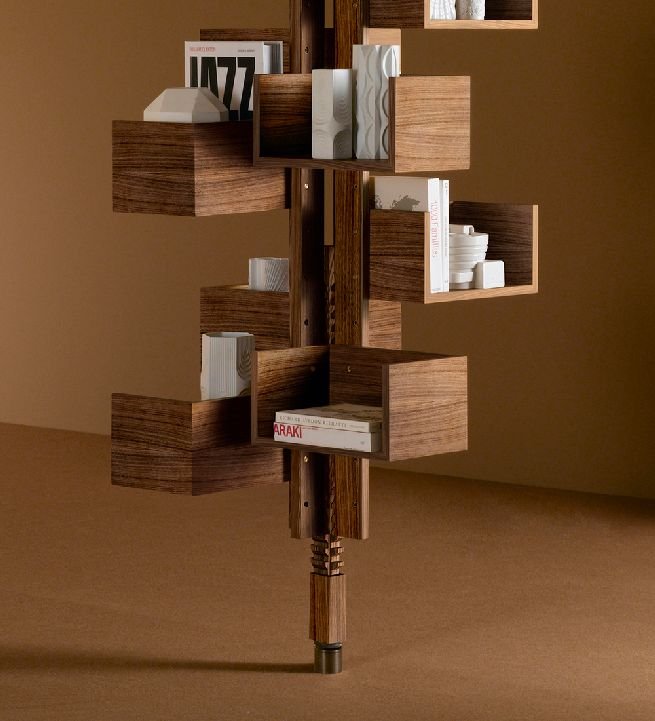 For more details, check out the product page.
Via: Knstrct