The aesthetic value of a thatched house is a paradox in itself. In most developing countries, it is built as a low-cost rural housing solution with locally available material (including vegetation), like straw, reed and rushes. On the other hand, thatched buildings are also gaining prominence among the 'crème de la crème' of developed countries. Their rustic designs are seen as architectural means to go back to an idyllic by-gone era of abundance. Hence the approximate oxymoron – a luxury thatched house! So, without further ado, let us present to you ten such magnificent specimens of luxury thatched constructions (be it homes or hotels) dotting various destinations of the world.
1. Garden Cottage –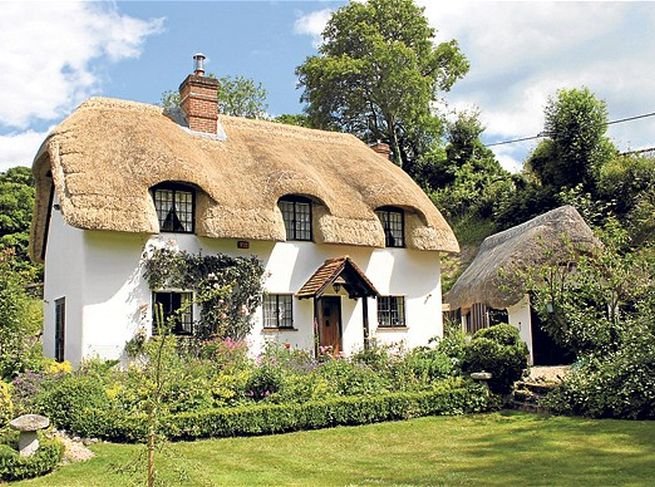 An archetypal example of affluence fusing with the rustic side of affairs, the Garden Cottage in Monxton, Hampshire (UK) was actually built in the year 2000 (yes 2000, not 1600!). However, the three-bedroom dwelling takes its inspiration from the 17th century, as is evident from the honey-hued thatch, imposing timber beams and subtly rounded corners. These anachronistic components are of course bolstered by various spacious credentials, including big window openings and a substantial ceiling height.
2. Blue Forest 'Treehouse Cottage' –
Built by luxury tree house company, Blue Forest, these gorgeous tree-top mansions are available for $420,000 a pop. As can be comprehended from the pricing, they are tailored for the high-end market as forest getaways and garden houses. But do not let their sylvan essence fool you. Built from sustainable wood varieties, each building also comes with its biometric security system and CCTV; while their interior zones are furnished with modern electronics like plasma TVs and gaming consoles.
3. Wygonin Luxury Thatched Cottage –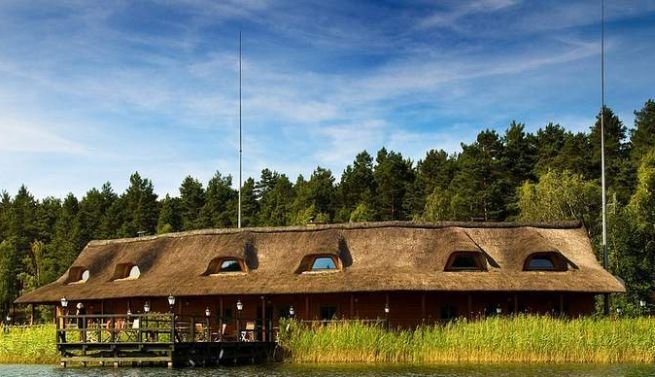 Located in the picturesque setting of the Pomeranian region of Poland, the Wygonin Luxury Thatched Cottage boldly boasts of its remoteness. Snugly nestled along the side of a lake, the cottage is known for its paradisiacal property and fantastic sunset viewpoints. Fortunately, the chalet is accessible as a bed and breakfast, with its 'suite' coming for a rate around $47 per night during the peak season.
4. 'Hansel and Gretel' Thatched Home –
Invoking the reverie of the Fairytale Gingerbread house, this $11 million mansion is surprisingly situated amid the hustle and bustle of Brooklyn, New York. Built in 1917 for a shipping magnate, the expansive rustic scope covers it all – patchwork boulder walls, beamed ceiling, stained-glass windows and lastly, thatched roofing. The imposing facades are equally matched by ostentatious interior furnishings, including – an opulent lounge, engraved wood panelings and fascinating glass work.
5. Old Fox Cottage –
UK once again joins the race for charming thatched cottages. The Old Fox Cottage in Bretforton, Worcestershire is envisaged as a 'chocolate box' getaway for families who wish to spend their weekend in the countryside. Likewise, the idyllic establishment comes with its simple (yet ample) family-oriented spaces and amenities, including a double bedroom with king-size marshmallow beds, bathroom with antique claw foot tub and an adjoining garden conservatory that offers breakfast.
6. Kölpinsee House –
Designed a house rental off the coast of Baltic Sea, the Kölpinsee House is a pastoral thatched cottage in Germany. The striking red color scheme along with the adjacent windmill is a nod to the vernacular architecture prevalent in the area. This idealized 1,300 sq m (14,000 sq ft) escapade is complemented by a slew of arcadian features, like – a fireplace, a sauna and just 5 minutes walk to the beach.
7. Constance Halaveli Resort –
The Constance Halaveli Resort in Mauritius has been making its rounds in the realm of the internet for quite sometime now. And rightly so; with the hotel's location boasting of its very own private island nestled by the ocean. The vernacular-type thatched designs of the resort are laid out in a detached manner, with each cottage catering to its own specific accommodation function. These includes – restaurant, spa, children's club, courtesy lounge, swimming pool and even a doctor's hut.
8. Mutamaiyu House –
From Northern Europe we travel to the heartland of Africa with the Mutamaiyu House. Situated in the rugged plains of the Mugie Wildlife Conservancy (in Kenya), the rustic establishment boasts of luxury cottages with traditional 'makuti' (palm leaves) thatched roofing. However, the 'piece de resistance' of the setting would surely be its richness in wildlife, which includes – a lion, leopards, hyenas, aardvarks, porcupines and various sub-species of zebras.
9. Anopura Luxury Hotel –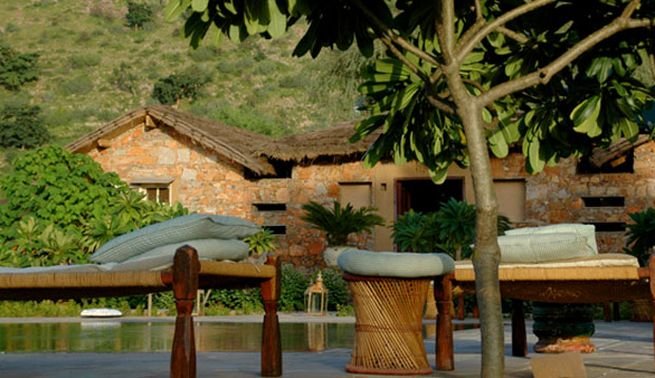 Often billed as the smallest luxury hotel in India, the Anopura aptly showcases its vernacular architecture with aplomb. Located in the scenic setting of the Aravali mountains, Rajasthan, the two-bedroom thatched cottage is surrounded by vast swathes of green farmland. The verdant ambiance is in fact showcased as a 'gateway' to the rural life of India, which is rarely witnessed by Westerners. This is certainly unique for a high-end hotel, thus lending credence (beyond superficiality) to its enticing 'thatched' features.
10. Azura Hotel –
We end our list with another African resort, this time in the paradisaical shores of the Benguerra Island (in the Bazaruto Marine National Park), Mozambique. Often touted as the country's first Eco boutique retreat, the vernacular thatched jekka roofs of Azura Hotel serve as an antithesis to the contemporary amenities, like the infinity pool. All of these classy features are accompanied by wooden beams crafted in local timber, fascinating artwork done in traditional style and indigenous gardens.