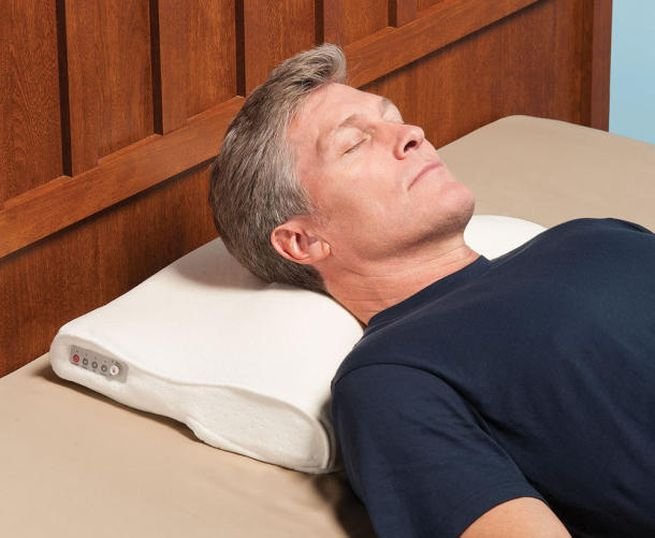 Snoring can be a real problem for some, especially for the person beside the snorer. While the soft, barely-there snoring sound is indeed quite cute, there are those whose roaring snores are enough to wake an entire household up.
Whatever your case may be, have a go with the smart and intuitive Snore Activated Nudging Pillow by retailer Hammacher Schlemmer. Whenever it discerns snoring, this one-of-a-kind pillow rousts the sleeper into shifting positions.
The mechanism behind this is ingeniously simple. The Snore Activated Nudging Pillow features a highly sensitive built-in microphone that monitors the sonic vibrations of snoring. The trigger from the microphone automatically causes the pillow to inflate by three inches, enough to nudge the snorer into changing sleep positions without waking him up.
The receptivity of the microphone can be adjusted for light or heavier snoring, and can even be turned off. An initial 30-minute delay setting is pre-programmed into the system to ensure that the user can fall asleep without activating the pillow's integrated trigger.
The Snore Activated Nudging Pillow measures 21 1/2″L x 14″D x 4 1/2″H in dimensions and weighs about 4 3/4 lbs. The contoured design of the pillow provides optimal head support and positioning in order to abate snoring. The 100% polyurethane cushion makes for a soft and comfy headrest. The slippery finish of the 100% polyester, machine-washable pillow cover can be uncomfortable for some people.
The high-tech pillow comes with a 68″ long adapter that plugs into AC power source, with no need for batteries. The power cord, however, can restrict your natural sleep movements and may in fact be a problem for snugglers.
The miracle pillow offers much needed respite to the spouse of a snorer. With 32% of men suffering from snoring-related sleep disorders, as opposed to 16% of women, the Snore Activated Nudging Pillow will be a perfect( albeit gag) gift for the husbands and boyfriends.
Retailed for $149.95 by Hammacher Schlemmer.
Via: PSFK