Coffee Mugs are interestingly one of the first things we see in the morning, after our groggy sleep sessions and lightning-fast baths. So before you are prepared to spend a long-stretched-mundane time in the office, it is always a good habit to keep your mind fresh and jovial. And, it turns out, nifty and eccentric coffee mugs might just put a smile on your face.
So, without further ado, let us take a gander at ten such groovy coffee mug specimens with their utterly whimsical style quotients.
1) On/Off Mug –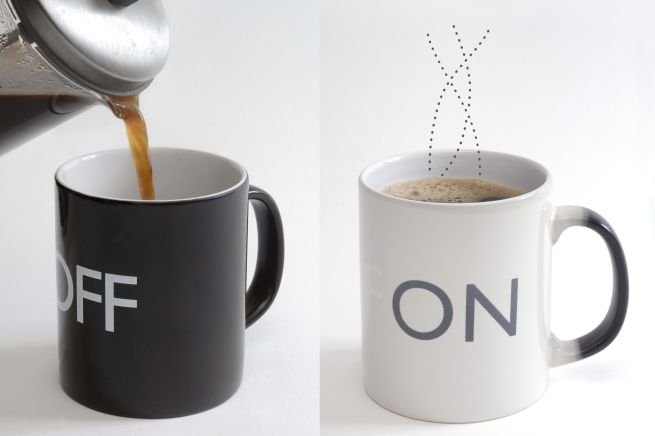 A picture speaks more than a thousands words – the On/Off Mug's specialty is deftly defined by the image above. Presumably making use of a heat-changing material, the black ceramic mug showcases its 'OFF' print during regular circumstances. And as we can see – the contrivance remarkably changes its hue from black to white, while also displaying an 'ON' message, when filled with some hot beverage.
Buy – $10.94
2) Keyboard Mug –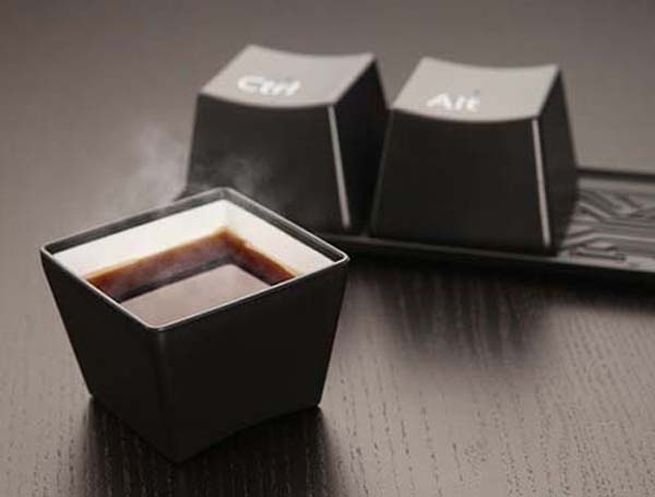 PC aficionados will surely get a kick out of these deftly designed Keyboard Mugs/Cups. Each mug fascinatingly replicates the correct contour of an individual key with the precise inclinations and the color scheme. The parting touch is when you keep the mugs upside down, and the set designates the arrangement of the particular keys like Ctrl, Alt and Del. These keys when pressed together in real-time computers, start the ever-trusty Windows Task Manager (as many of us will surely know).
Buy – $4.99
3) Grammar Grumble Mugs –
Yes, there are coffee mugs specifically conceived for the grammar nazis! These dandy specimens smugly show the difference between 'lose' and 'loose', while also smartly nitpicking on our confusion regarding 'literal' and 'figurative'. And of course, the rectified sentences are amusing.
Buy – £39.95 or $67, for a set of six mugs.
4) Anger Management Ceramic Mug –
Most of us would surely flunk our anger management course in our grouchy early-morning mood! The Anger Management Ceramic Mug aptly captures the 'heated' behavioral pattern during those – 'getting ready for a long day at office' exercises. Additionally, the practically good features relate to its capacity for a substantial 12 ounces and being totally dishwasher safe.
Buy – $9.95
5) Rubik's Cube Mug –
The great thing about the Rubik's Cube is its essence of vivacity combined with its pattern of mathematical geometry. The above pictured Rubik's Cube Mug from Spinning Hat deftly replicates this vibrant scope. Moreover, the designers also have other novelty items like speakers and notepads that can be matched up with your work-space coffee mug.
Buy – $12.98
6) No Flush Toilet Coffee Mug –
Finally, a contrivance for the 'potty mouthed' among us, the No Flush Toilet Coffee Mug proudly notches it up on the whimsical and scatological levels. And, if we go beyond the 'aw crap!' visuals, we can actually make out the no-flush handle and a hand-painted rim that are added to the minute details.
Buy – $14.95
7) Canon Camera Lens Mug –
Available in both black and white, the Canon Camera Lens Mug takes its lens replication quite seriously with the exact scale of 1:1. The ambit of 'authenticity' is bolstered by a stainless steel ring that preserves heat, a rubber grip for preventing those accidental spills and a lens cap mimicking lid to uphold the realistic visuals.
Buy – $12.99
8) Pac-Man Heat Change Mug –
We have always been enticed by heat changing mugs. And, this time around, Pac-Man makes the geeky experience all the more sweet with the ghost-eater's full colored graphics magically appearing when you fill the mug with a hot beverage. But remember – heat changing mugs are not designed for microwave ovens or dishwashers!
Buy – $16.95
9) Sinking Into Table Coffee Mug –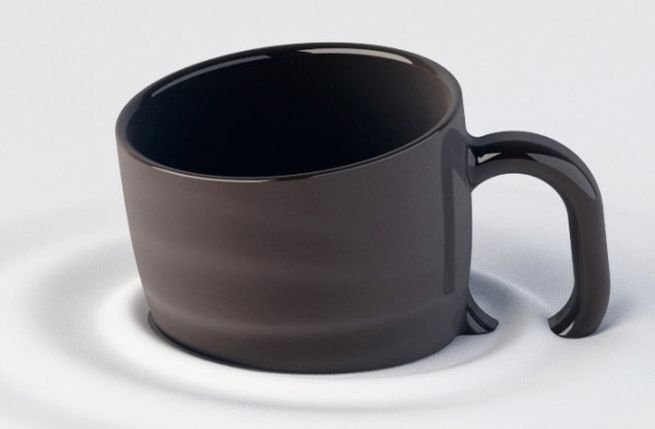 Sometimes it is the simple design feature that stands out in terms of unique aesthetics. The above pictured coffee mug aptly follows this dictum with a slightly tilted base and cut-off handle. The end result is a perfect little illusion that manages to capture the 'dynamic' posture of the cup gradually sinking beneath the table-top level.
Buy – $30
10) Toastymug –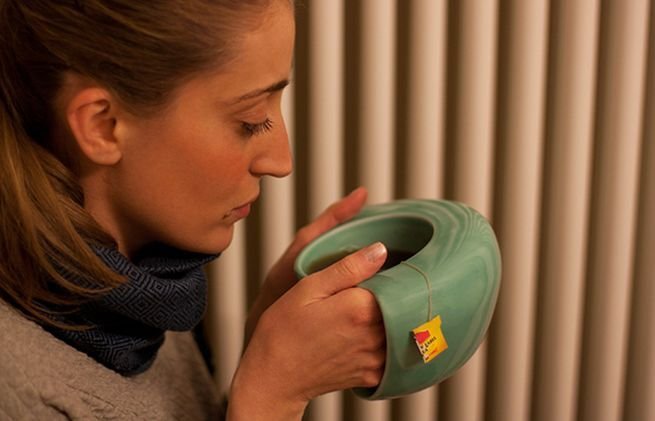 Hand-crafted by the expert artisans of Montelupo (near Florence in Italy), the Toastymug credibly fuses an artistic essence with ingenious functionality. Created mainly for cold climates, the side 'pouches' of the mug allows us to keep our fingers warm from the hot beverage. Furthermore, the big size of the container surely accounts for a greater capacity than regular crockery items.
Buy – €44 (around $60)