In our modern realm of soaring real estate prices and cramped apartments, spatial efficiency and management of interior spaces should be the order of the day. To that end, designers over the recent years have successful contrived and implemented effective spatial solutions for our homes; many of which pertain to multi-functional uses. And, the best part is – most of these design components/ideas also exhibit their aesthetic flair, thus fusing the crucial architectural elements of purposefulness and visual evolution.
1) Acaa's staircase with 'formal' sitting areas –
Staircases continue to remain underutilized in most our interior settings. This user-space trend is quite odd, considering that staircases are often used as sitting areas, especially during those indoor parties and get-togethers. Japanese architectural firm Acaa understands this user compulsion, and they had decided to integrate a special staircase with dedicated sitting spaces, inside a residence in Yokohama. These cool components are sort of designed as mini-landings with contrasting white risers and dark wooden treads, while their 'dissipating' arrangement seamlessly blend into the main staircase bearing.
2) A dedicated bookshelf doubles up as a door –
While the earlier entry was seamless in terms of aesthetics, the incredible Bookshelf Door is seamless by virtue of its inconspicuous structure. Bedecked with horizontal panels, the shelving system in itself is pretty conventional with ample slots for keeping your books and novelty items. But the piece de resistance of the setup comes into focus when the bookshelf is 'opened' to provide access to an actual room! In fact, in its opened state, the shelving system accentuates the decor of the room – by endowing the inner living space with additional yet flexible 'showcasing' section.
3) The 'cumulative' all-in-one Living Cube furniture system –
Christened as the Living Cube, this collective storage facility is the brainchild of Till Könneker and Remo Zimmerli. The multi-functional space flaunts its myriad of functional components – a loft bed, a separate entertainment space for your television, smaller shelving units for keeping books and music records, an ample sized spacious cloth rack and finally a dedicated shoe rack located underneath it. All of these storage space are bolstered by a full fledged walk-in closet that can be accessed from the side of the multi-storage system.
4) Object élevé staircase with shelves and desk –
The above pictured 'Object élevé' (by studio Mieke Meijer) is envisioned as a collective stair installation that combines the advantage of both storage and accessibility (to upper floors). Installed in a suburban home around The Hague, the interesting structure boasts of study panels that are supported on a labyrinthine framework of black steel. The high steps are designed in accordance with the Samba arrangement, which allows them to cover greater floor heights while also expanding the spaces for adequate shelving. Finally, the lower half of the Object élevé coalesces into a desk system – completing the advantageous fusion of circulation and storage.
5) The Book Tower with ceiling-height reach –
Some of us end with so many books that we have regrettably sell them to make space inside our cramped apartments and abodes. Interestingly, the Book Tower installation from Platform 5 Architects solves our 'book-keeping' woes with its ceiling height storage capacity that extends to cover at least two floors of a London house. Proudly exhibiting its library-like vibe, the book-shelving system is crafted from solid and sturdy oak sections that even dot the side of the stairs. And on closer inspection, we can also make out the deftly incorporated recessed lights that gleefully illuminate the individual shelves.
6) MIT's CityHome with automatic transforming spaces –
A technologically advanced solution from MIT Media Lab's Changing Places team, the CityHome is basically a big white box that takes care of all your dwelling's primary furnishings. Specifically designed for smaller apartments, the box accounts for multiple items like your abode's bed, closet and even kitchen units. All of these furniture items can be accessed from the CityHome by gesture controls, like voice and touch-interface. In other words, the user issues the right command, and the 'smart' morphing storage system allows the appropriate furniture component to emerge from its box-like form.
7) Desk Bed showcases hidden bed assembly –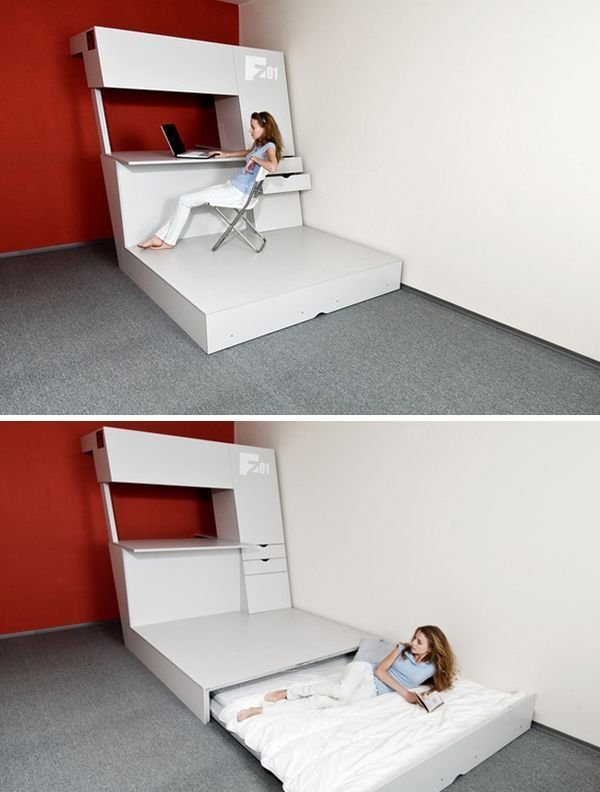 The desk system in its conventional embodiment exhibits a modernistic bearing with angled facades and a slightly recessed desk. But there is more to the Desk Bed than that meets the eye. The lower base structure of the installation conveniently hides a retractable bed that presumably goes to its full size on unveiling (unlike many of its space-saving peers). In essence, the Desk Bed combines two completely different furniture items, without sacrificing on the inherent comfort level expected from a contemporary design.
8) Maki Stairs vaunt their drawers –
Previously, we had talked about staircases that incorporated sitting areas and shelves. In contrast, the Maki Stairs by Harry Thaler related to the privacy side of affairs, with its built-in array of personal drawers. Crafted from marian plywood, the drawers open out from the side-facades of the individual steps – an arrangement which proves to be unobtrusive to the main circulation feature of the staircase. Consequently, the hidden drawers can be used for safekeeping a variety of smaller objects, all within the scope of a compact, spatially efficient installation.
9) Makeshift wall partition with storage credentials –
Finally a design/idea that is achievable in most interior areas, the makeshift wall partition is an easy solution to divide up the contiguous spaces. As we can make out from the above image, the red imposing 'room divider' in reality comprises of an array of neatly arranged plastic crates that are perfectly suitable for storing and displaying various objects. This not only alludes to the recycling, but also makes it convenient for the user to dismantle the divider when he/she prefers it.
10) Indoor Lap Pool – a bath and a pool!
We have saved the best for the last, courtesy of Belgium-based P8 Architects. The designers have ingeniously managed to induct an entire pool inside the confines of a living room. Located close to the outdoor patio, the indoor swimming/bathing pool utilizes a saltwater pool filter system that is relatively low impact in nature. The safety factor is also taken into consideration – with the installation of vertical railings on the patio bridge and a dedicated equipment for current/training stream (that is affixed underneath this patio 'bridge').