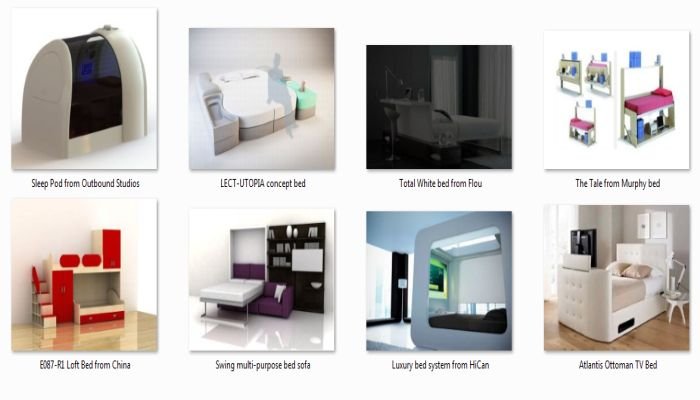 Our tryst with innovative bed designs started out with some cool space saving specimens tailored for our cramped apartments. However, this time around we have decided to focus more on the 'multi-functional' aspect of the conceptions. So, we present to you a list of ten such ingenious bed designs that seriously crank up on the multi-purpose scope, and that too with a progressive flair of their own.
1. Atlantis Ottoman TV Bed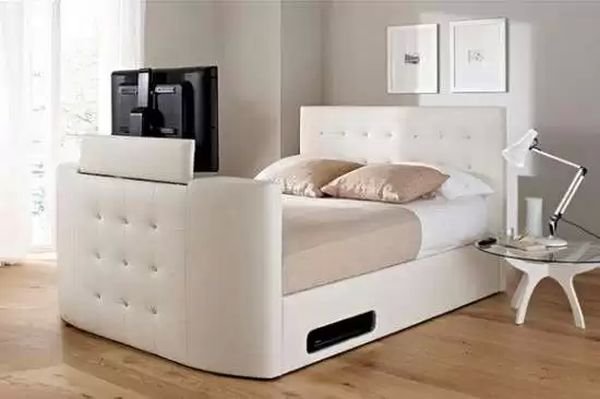 There is no question about the style quotient of the Atlantis Ottoman TV Bed, an elegant bed strutting its white leather and studded crystals. However, the superlative aesthetics is equally backed up by its functional nature, with storage spaces beneath the mattress and the side rails. But the best part about the upscale design would surely be its hidden TV along the foot of the bed, which can actually rises up automatically with a flick of a switch!
2. Luxury bed system from HiCan
The HiCan bed comes with its host of hi-tech features. Exhibiting a classy modernist style, the conception integrates – retractable blinds, a cutting edge sound system, reading lights, a built-in PC and a discreet gaming console connected to a projector. And, if you thought all of these attributes belong to the realm of science fiction, hear this out – the luxury bed system also incorporates complete home automation system that can be customized to the user's preference.
3. Swing multi-purpose bed sofa
Transformation is the name of the game when it comes to the Swing multi-purpose bed sofa from Italian company Clei. In a nutshell, the entire design comprises of a big sofa and a folding two-person bed. But the innovative part about the conception is that it additionally features a full fledged shelving system that can be used as your house library. As for its transforming credentials, the bed can folded back into the wall niche, thus making the Swing 'sofa' a perfect accompaniment for your drawing or living room.
4. E087-R1 Loft Bed from China
As they say – a picture is worth a thousand words. Well, the above pictured Chinese creation integrates every kind of storage space conceivable in a bedroom, starting from closets, shelves to even storage areas for your precious shoes. And, as a literal 'crowning jewel' at the top is the loft bed with accessible steps helping the user on the way up.
5. The Tale from Murphy "bed"
There had to be a Murphy Bed in the list. The Tale takes that honor with its ingeniously conceived multi-functional credentials. As we can see, during the day time, the design acts as your home office desk with spaces for keeping the laptop, printer and various files. But when you decide to hit the sack, the desk can be easily converted into a bed by the normal folding function. So, where to keep your office accessories? Well, the Tale also has a solution for that by integrating a separate storage area beneath the 'opened' bed.
6. Total White bed from Flou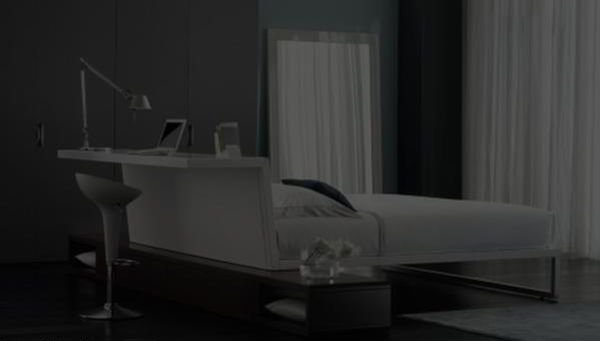 Having multi-purpose value is great and all; but how about a bit of elegance to go with the functionality? Flou has upheld this 'purist' notion of conventionality and aesthetics with their aptly named Total White Bed. The designers have managed a bit of innovation within this scope of traditionalism, with the inclusion of an open shelf along the bed's headboard. This headboard also rests atop a wooden platform which extends in two wings to serve as smaller storage spaces.
7. Desk Bed
The name says it all – a full fledged desk system that combines a retractable bed. The good part about the conception is that it keeps these two components completely separated from each other, with priority being given to the desk (hence the name Desk Bed). So, when you use it as a home desk, you can't actually see the folded bed. But when you need to relax, the 'hidden' bed component can be easily extended from the spatially efficient desk platform.
8. LECT-UTOPIA concept bed
What might just look like a contemporary bed design with stylish features is actually more than that meets the eye. This conceptual design by Bika Rebek entails a bed that can be reconfigured in a myriad of ways to suit your decor. For example, the bed can be converted into breakfast tables, bed stands, storage units and even sofas. And, how does it achieve so many functional forms? Well, the LECT-UTOPIA comprises of two mattresses and eight different modules. So, the users can arrange these components in various manners to concoct furniture pieces that suit their needs.
9. Sleep Pod from Outbound Studios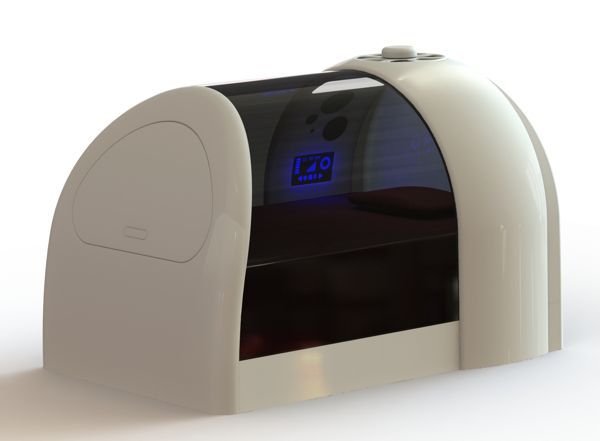 We daresay, this is the closest you can get to one of those science fiction inspired cryogenic chambers. Consisting of a futuristic looking pod which allows a person (or a couple) to sleep in peace and safety, the sturdy bed will be able to deter intruders, while also being sound proof and fireproof. And, if you thought that was cool; the Sleep Pod's facade is created from 'smart glass' that has the capacity to regulate light induction inside the pod. This is further complemented by an advanced sound, light and air control mechanism that optimizes the internal comfort level of the capsule.
10. Shell 'self-contained' bed
Till now we have talked about style or technology accompanying the essence of innovation. But in the case of Shell, it is conscientiousness that complements ingeniousness. Envisaged as a bed, storage system, a seat and even a shelter, the design is suited for people who follow nomadic lifestyle (which includes homeless people). As we can see from the image, the Shell is protected by a quarter-circle screen that is retractable. Furthermore, the sheltered cocoon incorporates an internal music system for mobile devices and a secure storage compartment for keeping your personal belongings.