In one of our earlier posts, we discussed about how an arm-chair doubles up as a book shelf, thus showcasing its spatial efficiency. Such space-saving credentials also does come in handy for bigger furniture items like beds that traditionally take up much of your room's area. In this regard, we have concocted a list of eight such space-saving hidden beds that functionally perform both on the practical as well as decor level.
1. Atoll 000
Envisaged as a self-standing, vertically opening queen bed, the mattress is fixed to 28-inches of shelving with a sofa (that encompasses the entire length of the unit). The whole Atoll 000 conception is also integrated with CLEI modular shelving and storage systems, allowing users to keep stuff beneath the sofa item.
2. Murphy's Tama
Designed in the tradition of Murphy beds, the above pictured Tama is nigh perfect for your home office or cramped apartment. Exhibiting a work desk with an upper level filing shelf, the design opens up into a full mattress with a capacity for two people.
3. Boxetti's Hidden Bed
Replicating the essence of the famous Murphy style, Boxetti's hidden bed design is also combined with a hidden storage system, all packed into a vertical box along the wall. The storage system comprises of an arrangement of drawers, shelves and wardrobe. However, the best part about the design is that is operable via a remote, while also exhibiting specialized ambiance lighting during the night.
4. Single Bed for teenager or children rooms
Judging from the size of the room, the 'one-side opening' conception is certainly appropriate in combination with the cramped space. So, if you have a family living in an apartment building, the design is suited to your child's bedroom, with its single bed credentials that are unobtrusive to the overall circulation of the small area.
5. Bedup Hanging Loft Bed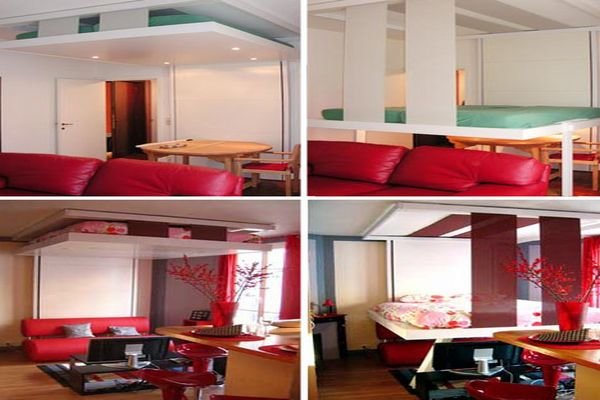 While our earlier entry dealt with a single bed opening on one side, the Bedup entails a unique hanging mechanism that needs to be pulled down (from the ceiling) to be converted into a bed. So basically, in its closed form, the entire conception is fixed along the ceiling, thus having zero effect on the circulation and furniture-decor pattern of the room.
6. Murphy's Dice
Another entry displaying the exalted Murphy tag, the Dice comprises of a minimalist sofa unit which is suitable for your apartment's living room. On opening up, the sofa transforms into a queen-size mattress with capacity for two people, while also having storage space along its lower level.
7. Zoom Room automatic beds
Till now, we have been harping about hidden bed designs that are convenient in relation to cramped spaces. However, the Zoom Room notches it up on the contemporary scale with some elegant finishes that match up with your decor. So, whether you want to furnish your high-end living pad with some stylish bed mechanism or just want to accommodate your guests in a comfortable setting, the Zoom Room is the way to go.
8. Bookcase and a Bed
As far as innovation goes, the above pictured Bookcase-Bed conception might just take the top honors. The design is made of four interlocking pieces that connect around five wall-mounted storage shelves to serve as a decor piece. But when the user wants to use the bed, the aforementioned pieces are brought down and 'locked' together to form a mattress, either as a single bed or a double bed.