There can be no limit to the ideas for decorations in Thanksgiving. You can do so much, be it place settings, wreaths, and of course centerpieces. We today have for you ten decorating ideas for Thanksgiving that can be conceived with pumpkins as the main ingredient. Most of the other elements are easy to find supplies, which are ensured to make impressive seasonal displays.
Plan these handmade pumpkin decorations well in time and you guests will fall in love with the ideas for sure. Personalize these ideas according to your skill and style. Happy Thanksgiving!
1. The thank you mantel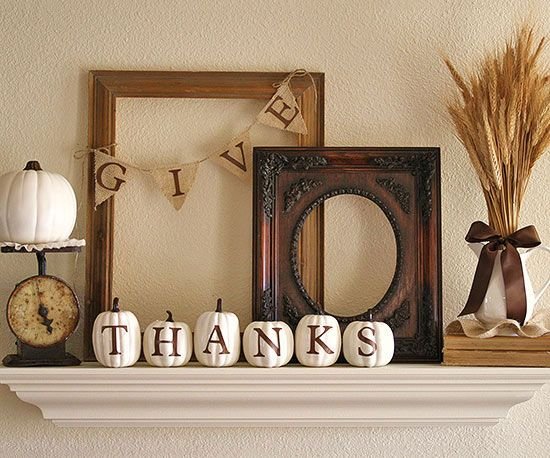 Thanksgiving is that time of the year when you don't need a reason to say thank you. Say thanks this year with this beautiful pumpkin arrangement on the mantel piece. Arrange the wheat in height order to give a layer effect. Stencils are a life saver in the festivities. Paint your message on the pumpkin or on a banner.
2. Create A Bewitching Display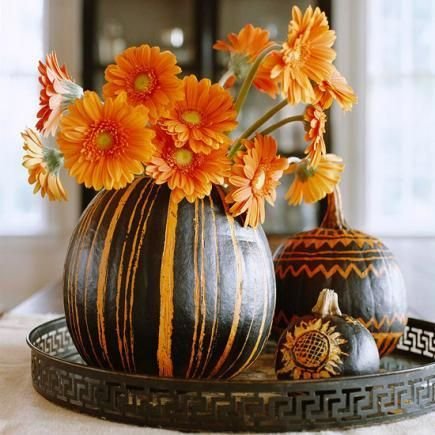 Add some black magic, not literally, to your decorations. Paint your pumpkins black or orange and etch your scary designs on them. Select a black paint with matte finish. When dry use a paring knife to create horizontal or vertical lines. You can also create a pattern. Add to the drama by scooping out one pumpkin and placing a vase of flowers inside it.
3. Go for an orange and white centerpiece
White pumpkins look very classy and mysterious at the same time. Place them on a bright orange table runner to make the centerpiece shout for attention. Add class to it by encircling the pumpkins with a bitter sweet vine.
4.  The creepy crawly mantel
This one is sure to scare a few out of their wits. Paint your pumpkins in solid colors and cover them with cheesecloth. Now place plastic spiders all over them. The crawling spiders are sure to raise the hair of many of your guests. If the spooky bug really got you, place a faux crow to complete the sinister act.
5. Spread the cheer
If spooky and scary is not your cup of tea, then go for this cheerful and beautiful arrangement for the mantel pieces. Collect an assortment of all kinds of leaves, tulips or any flowers you like, cattails and other natures goodies. Paint the pumpkins white or choose the ones in light green as the base for the arrangement. Lumina pumpkins are also very useful for this arrangement. Just remove the top of the pumpkins, hollow them from inside. Now place watertight containers inside each and fill them up with fresh flowers.
6. Spread The Spooky Message
This is an easy one. Just stack your pumpkins on a dowel and place them near the doorway. For the message, just sketch the letters with a freehand and later scrape them off with a knife.
7. Lock the pumpkins up
This is a retro look that is sure to resonate with so many of us. Collect some old and antique keys, try to get the ones with straight pins. Now fix them in the pumpkins to create a mysterious mantel piece. You can also etch on the pumpkins before inserting the keys.
8. Get the log look
If you are deft with a drill, then try your hand with this candle holder centrepiece project. Just get a branch and drill out holes big enough to place tea lights in it. Now place it in the centre of the table, and decorate the sides with small pumpkins, vines and berries. Once lighted the branch is sure to add  spread the spirit of Thanksgiving all around.
9. Create your own window swag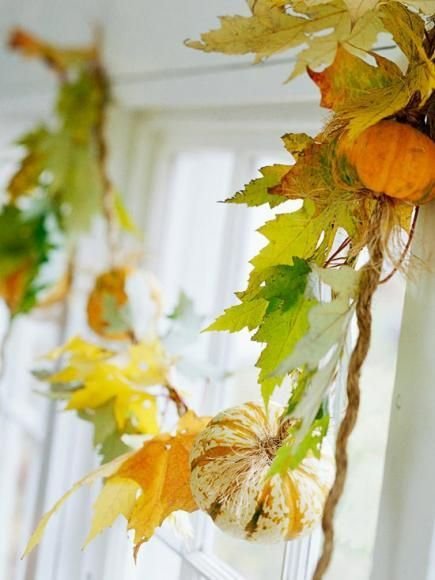 Mini pumpkins are wonderful to work with and make a great swag for the windows or the doorway. Just collect a few of these miniature beauties, and your favorite fall leaves. Knot them on a twine and hang them on your window. The view of the fall will only get prettier.
10. Place your name cards with pumpkins
Small pumpkins when placed on the table, add a warm and rustic look to the  whole arrangement. Make your table setting even more personalized by placing name cards on one small pumpkin each. You can also make the name cards out of colored leaves and tie them with a twine to the pumpkins.