We here at Home Harmonizing had the fortune of coming across quite a few spatially efficient housing solutions, be it the 130 sq ft QB2 module or the 700 sq ft attic floor apartment. And this time around, the above pictured 753 sq ft (70 sq m) apartment holds our fancy, not just because of its compact credentials, but also due its fascinatingly simple plan.
The entire layout of the dwelling is kept continuous, thus eschewing any form of interior structural wall. In other words, the whole floor comprises of a singular large space (that can induct two large rooms), without the inclusion of any sort of boundary. This intrinsic openness serves as the catalyst for the innovative spatial techniques and furnishings used inside the apartment.
The 'piece de resistance' of these innovations is the utilization of an imposing red shelving system that divides the space into a small private bedroom and a large living zone. This shelving system is resourcefully assembled from smaller plastic crates, thus alluding to the advantages of spatial efficiency, upcycling and multi-functionality.
The effect of the shelving system is not just limited to its function as a physical barrier. The vibrantly red color artfully snatches away our attention, with its antithetical vivacity contrasting with the minimalist white hue used by other parts of the house.
And, since we have brought up such 'other parts' of the compact apartment, the bedroom, kitchen and bathroom aptly uphold their unobtrusive modernist decor. So, quite intriguingly, it is the makeshift partition that proves to be the focal point of the house – a bold design consideration seldom seen in the realm of contemporary architecture.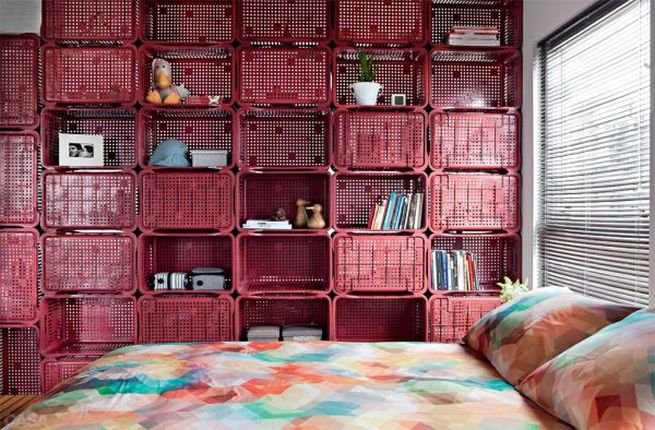 Via: Homedit