Compact houses have gone beyond the confines of just posing as spatially efficient residences in urban areas. There is a certain degree of innovation that goes into both planning and constructing such projects, which do allude to their special architectural significance.
So, let us check out 8 such compact housing specimens that not only uphold their effectiveness in terms of area and cost, but also showcase their exciting brand of both design and spatial novelty.
1) L41 modernist compact house –
The L41 comprises of a single floor construction with only 248 sq ft area, all designed for one family. And in spite of the seemingly small space, the house takes advantage of a simple layout to enhance its spaciousness.
This layout pertains to a centrally located 'collective zone' for various circulation-oriented functions of the users. The ambit of spaciousness is further bolstered by induction of natural sunlight through the use of glazed windows, and the incorporation of U-shaped kitchen.
2) House 11×11 with compact credentials –
While the last entry dealt with a single story structure, the above pictured 'House 11×11' (designed by Titus Bernhard Architekten) brandishes a double floored construction with efficient built-up area. The compelling essence of the housing unit is quite evident from its external facade that utilizes concrete walls embedded with projecting wooden lamellas.
As for spatial pattern, the ground floor showcases an open plan encompassing a living area, dining room and kitchen. On the other hand, the upper floor caters to private quarters, including the master bedroom and two children's bedrooms.
3) Passion House with energy efficiency –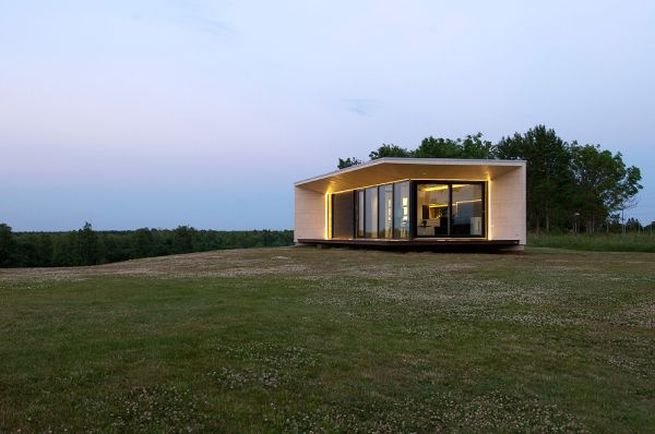 A collaborative effort from Passion Group, Architect 11 and Eero Endjärv, the 40 sq m (430 sq ft) Passion House aptly represents the neo Nordic school of architecture with modernistic aplomb. Coming with already installed low-space consuming furnishings (like pull-out beds and sofas), the true glory of the pre-fabricated building lies in its energy efficiency.
The low carbon attribute is defined by a number of features, including – weather resistant external skin, cantilevered roof for extra shading and high-quality insulation derived from glulam, rockwool and cross-laminated-timber panels.
4) 'Small House' with just 16 sq m floor area –
This time around, we delve into the truly urban side of affairs, with the contemporary Small House designed by Unemori Architects. Constructed in the densely populated Meguro neighborhood of Tokyo for a married couple, the architects had opted for vertical expansion, thus allowing a remarkably tiny floor area of just 16 sq m (172 sq ft).
This tower-like structure comprises of living and utility zones segregated by very thin floor boards. Another striking element of the Small House is the usage of expansive hinged windows that operate like conventional room doors, but open on the outside.
5) Smart student flat with cross-laminated wood –
Do not fooled by the fantastical form of the Smart student flat! Designed by Tengbom Architects, the minimalist wonderland boasts of sustainability, affordability and flexibility of usage. The interior of each compact 10 sq m (108 sq ft) flat unit entails – a personalized sleeping-loft, kitchen, bathroom and an adorable 'garden area' by the porch.
These circulation zones are accompanied by low-carbon building materials like cross-laminated timber. Furthermore, the adjustable nature of the building blocks allow the units to be easily assembled on-site.
6) QB2 housing unit with $17,500 price tag –
We have yet another living solution in the form of the QB2, a whopping three story structure with an floor area of just 12 sq m (130 sq m). The innovation of the design lies in its precise attention to details that synchronize with our circulation patterns. For example, the entrance is at the lowest level, and leads onto the work space/living area.
Bantam blocks of steps rise from this ground level zone to the intermediate level that comprises of a fully furnished kitchen and a compact private bathroom.
Finally, the 'floor' works its way up to the upper most level, which has a double bed with a side window/escape route. The other practical advantage of the QB2 would be its non-requirement of any planning permit due to a ridiculously low height of 10 ft (3 m).
7) Blue Sky model house –
Inspired by the tiny house movement in the internet, the mobile Blue Sky model house was designed by Open Trail Homes. In visual terms, the outer structure of the portable home exhibits a quaint facade, accentuated by the raised ridge roof, the lap cedar panels and the earthy paint. And once we move inside, the bantam yet cozy unit boasts of the habitation features of a full-service RV, like – a upper berth sleeping area, a small dining space, a kitchen with sink and stove, and even an adjoining bathroom.
8) Marco Pierazzi's tiny house in Rome –
We couldn't just ignore Marco Pierazzi's 75 sq ft gem of a living unit, which is interestingly a stone's throw away from famous landmarks like the Pantheon and Saint Peter's Square.
The compact apartment is claimed to be the tinniest house in all of Italy, and was actually renovated from just a one-room alleyway shelter.
However, as with every entry of this list, the living unit has all the contemporary habitable credentials, including a loft bed, a kitchen/living area and a bathroom at the rear end of the compact set-up.