If you are itching to get out of your cubicle and be in the midst of nature, plan your next holiday to a quaint little winter cabin set in the middle of the Araucaria Forest in Corralco, Chile.
Located in the ski resort of Corralco, this cabin with its efficient and unobtrusive design, allows you to feel one with nature again. The bantam structure fits perfectly with the scenic background of araucaria and oak trees, without being a hindrance to the surrounding flora and fauna.
Built by the architecture firm MC2 Arquitectos as a winter retreat, the cabin is barely 48 sq m (516 sq ft) in size. From the outside, the cabin takes the shape of an inclined prism, tilting slightly northwards in the direction of a small waterfall. The dark brown exterior, done to blend in with the forest environs, stands in stark contrast with the polished wood siding finish of the interior.
Giant floor-to-ceiling picture windows are provided on the front side of the cabin. A tiny wood burning stove sits adjoining these windows allowing you to spend your time cozying beside the fireplace while looking out at the breath-taking forest landscape. Strategically placed smaller windows are present throughout the cabin and can facilitate natural ventilation.
The cabin doesn't have individual rooms, but is designed as a single open space that gives the impression of a larger area that it actually is. It is inventively divided into the different functional areas of a house, such as the kitchen and the living room. The sleeping area consists of bunk beds that are supported at the back by a large space-saving wooden shelf.
Winter in Corralco witnesses heavy snowfall. Therefore, the cabin has been constructed on an elevated wooden platform, at about 3 feet above the ground. The architects have also built a small bridge of sorts on the outside via which the cabin can be reached.
The very intelligent and adept way in which the limited space of the cabin has been utilized actually showcases the creativity of the architects. With its minimalist yet charmingly smart interiors, this cabin is unlike many of its drab compeers.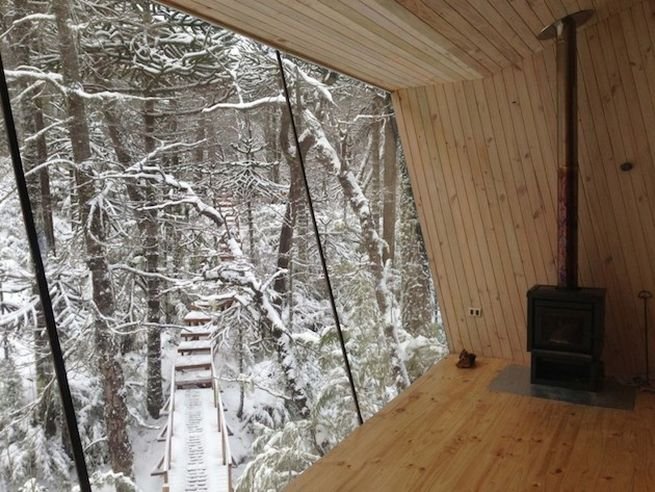 Via Humble Homes