Thanksgiving is just around the block and the trends are getting even hotter this year. Decide the tone of your Thanksgiving dinner well in time, in order to impress your guests.
Dinner is the most important meal of Thanksgiving and there is no reason why you should not make it as special as you can. We encourage you to pull out all the stops this year and dress your table to impress. Today we get you nine amazing table setting ideas, that promise to add chic and an autumn palette to your table.
1. Mix and match the splendor
Arrange the elements according to their height. In the image you will see a wonderful idea to balance the candlesticks in brass with the vintage china. The end result is a table setting that is beautiful and yet looks non-fussy. Get inspired by this idea and create your own setting. Just remember this is the perfect time to take out your grandma's fine china.
2. Design your own runner with free twigs
Add an organic touch to the tables by creating a runner made from small twigs. Ask your children to collect small similar sized twigs. Now trim them into similar sizes and start sticking the edges on both sides by placing them on two parallel pieces of ribbon. For best results execute this project on a hard surface or on the floor. The effort will show and your creativity will be appreciated for sure.
3. Create a riot of colors
Thanksgiving is a time of rejoice, positive energy and a celebration of the human spirit. Make it more vibrant by pairing the center piece of your table with mats in contrasting colors. In the image you will see that the designer chose to pair an already vibrant centerpiece with bright blue mats. The combination of a cool and warm hue is sure to make your table the center of attention.
4. Golden Pomegranates to steal the show
Create this look by placing name cards in glittering pomegranates. Select similar looking pomegranates. Spray them with metallic paint and allow them to dry off completely. Now make small place cards and write the names of your guest in your hand writing. Place them in the crown. Homemade and utterly inexpensive, we bet your guests will insist on carrying the pomegranates homes.
5. Let the spot light be on the dessert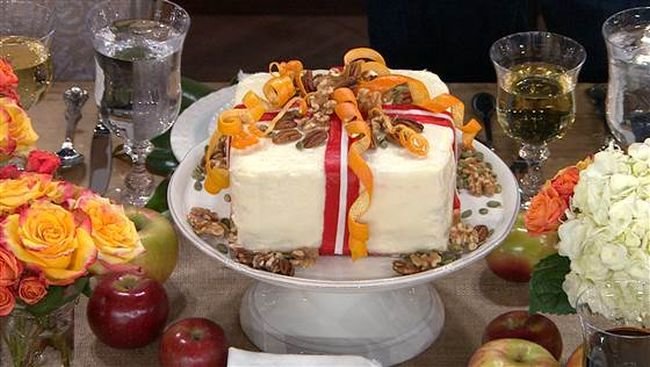 This season do not hide your pies in the kitchen. Flaunt your handwork right there on the dining table.  Display them on the table like prized trophies. Use your most decorated cake as the centre piece and place it on an elevated cake stand. The temptation to eat it, will build a healthy appetite in all your guests.
6. Make your home smell yum
The oranges available in this season can be put to good use. And their smell always manages to lift the energy in the room. Incorporate them on the dining table. Fill a bowl with the prettiest looking oranges in town. Stick cloves in any pattern you like, and leave the fruits out to do the rest. You can also place an orange individually in everybody's plate.
7. Create a golden tower of pumpkins
The humble looking pumpkin can look all glam with a spray of gold. Select a few big and few small pumpkins and paint them in gold and cream. Remember to tape off the handles in order to make then look even more natural. Let them dry completely, and then stack them in the center of your table. The cream and gold are sure to bring out an elegant finesse to your Thanksgiving dinner session.
8. Wishbones as charms
Give your guests an opportunity to make a wish after they finish dinner. Collect wishbones, and put them to good use. Let everyone get a wish this Thanksgiving. Tie the napkins with some colorful twine and place the wishbone right on top. These personal trinkets are sure to spread warmth on the table.
9. Make it look sophisticated and simple
If your center-piece is overly dramatic you can keep the rest of the table simple. Just grab an old and flat board from the garage and use it instead of a fabric runner. Place your fresh cut flowers, gourds, and candles on it. Spread the charm to your place-cards by keeping a sheath of wheat with each card. The beautiful blooms, the vintage ware and linen tablecloth will give you a winner decor all the way.