Curiosity is surely the word that describes the eccentrically named 'A House for Pink Floyd'. Symbolizing the same psychedelic ideals encountered in the songs of the exalted Pink Floyd, the design does bring forth an eerie sense of wonderment and mystery that is elusive in contemporary heavy constructions.
In terms of form and function, the project (by Arqbauraum) is envisaged as a series of spaces for contemplation and thinking. These spatial zones are actually hidden behind a network of box shaped voids. So, when viewed from a distance, it gives us an illusion of a 'translucent' external facade (shaped like a house) that shelters the vague outline of the original spaces inside.
As for these internal spaces positioned inside the framework of the meta-structure, they are zoned according to their individual purposes. The spaces comprise of rooms like – Initiation Room, Revelation Room, Purification Room, Knowledge Room and Reflection Room.
Each of these spatial elements have their own style and decoration that allude to their purpose. For example, the Initiation Room utilizes water, while the Knowledge Room utilizes books as its primary decor component.
However, they also collectively conform to dark painted internal walls that serve as an architectural contrast to the white painted walls of the external facades. Overall, A House for Pink Floyd symbolizes the antithesis of different styles, colors and patterns that ultimately endows a state of equilibrium to the end design.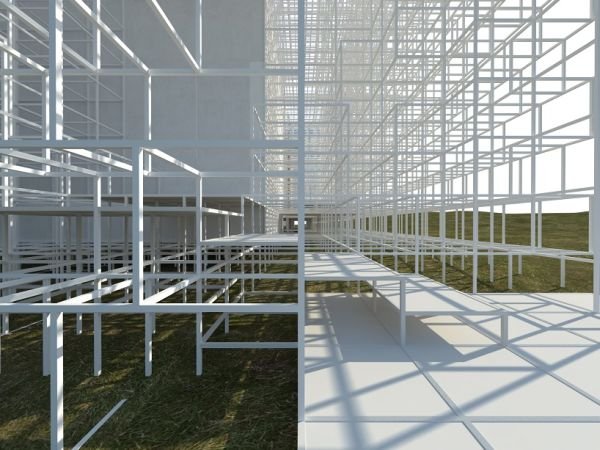 Via: DesignBoom