We as armchair 'aficionados' have always praised art for art's sake. But what about art that treads the conscientious path to make its mark in the practical realm? Well, Oakland-based artist Gregory Kloehn certainly believes in such a novel scope, as is evident from his incredible mobile home projects for the homeless. Instead of wasting time on highfalutin art statements, the designer creates his versions of various types of housing units from recycled components found in the streets and the dumpsters!
In fact, the very first and crucial step of his indigenous projects entails – driving to the industrial neighborhood of Oakland and searching for those ugly spots of illegal waste dumping. And, given our propensity to a 'high-consuming, high-wastage' culture, it is not surprising that the artist finds most of his resources and materials from these dump points.
However, the real innovation comes from how Kloehn utilizes such an odd assortment of recycled stuff for the home components. For example, some foundations are made from wood pallets and even insulated with common pizza delivery bags. The wheeled housing units even boast of more fascinating materials like refrigerator doors used as normal doors and windows made from laundry machine lids.
More importantly, most of these endeavors are envisioned as collective projects that involve the helping hand of homeless people and even high school students from the neighborhoods. So, in a sense, the ambit is all about a positive societal impact which is brought on by the various sections of the society – a truly self-sustaining scope!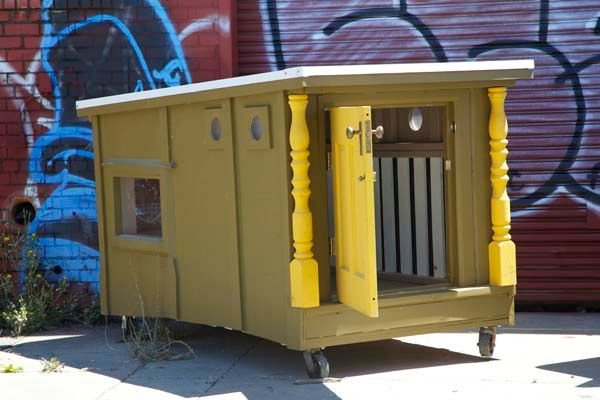 Via: ViralNova