Most of us get bored looking at the same bathroom everyday. Like the rest of the house, a facelift at regular intervals could actually add spice to your morning and night routine. And before you start fretting, we are not talking of major upheavals here. Most of the stuff we have for you today is DIY. We promise you maximum zing with minimum effort.
A trip down to the your closest convenience store or mall can reveal so many small products that can lift the spirit of the most depressing washrooms. Just get your tools, schedule a weekend free, and think of it as a treat for your self.
1. Scrub it down
It might sound lame, but a good scrubbing can give an instant lift to your bathroom. Just clear all the clutter, and start scrubbing from top to bottom. Clean the corners, the faucets and the cabinets inside out. Once you are done cleaning throw out all the makeup you never wear, the shampoo you use once a year and medicines that have expired. Don't spare anything.
2. Give it a fresh coat of paint
If you like to keep it simple and classic, then just give your bathroom a fresh coat of paint. A bathroom paint job is the easiest as you don't need to cover anything with tape or move any furniture. Try a classic white this time; it looks chic and never goes out of fashion. You can also give the cabinets a fresh coat in a contrasting color. Remember to paint them inside out.
3. Replace your medicine cabinet
Try and replace your old and small cabinet with a new and shiny one. And if you are really not looking for storage, then replace it with a vintage mirror. The effect will be instant and impressive.
4. Get some blinds
Replace your boring curtains with blinds. They look very clean, practical and are so easy to clean and wash. The bathroom will instantly look modern, and the steam won't discolor them over time.
5. Look for a wicker chair
If you are lucky enough to live in a cottage with a huge bathroom, then get yourself a wicker chair or a seat for two. Place it in a corner and add a cushion to make it more personalized. If you still have space left, place a magazine rack on the floor next to the chair, along with your favorite magazines.
6. A wicker basket is a must
If you have a messy husband and a houseful of children who refuse to obey bathroom manners – place a wicker basket with a cover in the bathroom, and ask them to drop the dirty laundry in it, not on the floor. The laundry stays hidden and your bathroom does not look like a mess. You can also tape a small air freshener to the lid, in order to keep the bathroom smelling nice.
7. Get yourself a new shower curtain
In the bathroom, it is the shower curtain that manages to attract the most attention. Your guests just cannot ignore it, even if they want to. So, since it wants to be the center of attention, don't neglect it at any cost. Look for a fun pattern that compliments the colors in the bathroom. If the bathroom is already loud then a neutral curtain will create calm all around, or vice versa. This is an especially good option if you live in an apartment community, as you can take it with you each time you move.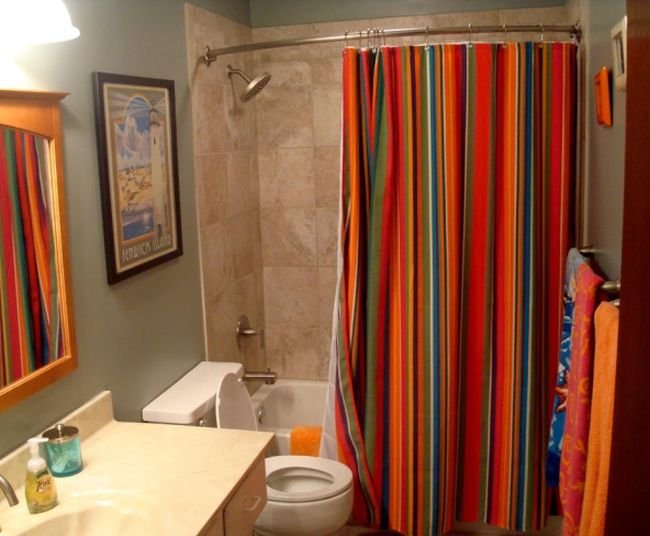 8. Rethink your counter top
Give a second thought to the items you keep on the counter top. The shaving gel, the toothpaste and the foot scrubber can ideally be kept in a drawer or the medicine cabinet. Look for colored glass bottles that can also work as candle stand , or even better keep your Chanel and Estee Lauder out in the open. Every morning pamper yourself and feel special.
9. Replace the bathmat
A new bath mat can add so much character to the bathroom. And we never asked you go over board. An old carpet or a rug with some personality left in it will do just fine. And if you really want to leave no stone unturned, then search for eco- friendly mold-resistant bath mats.
10. Get an indoor plant
Add a small plant to the décor of the bathroom. Search for an indoor plant that remains happy in the steam and the heat. Or just pick up an orchid from the grocery store. They need very little maintenance and last out for months to come.