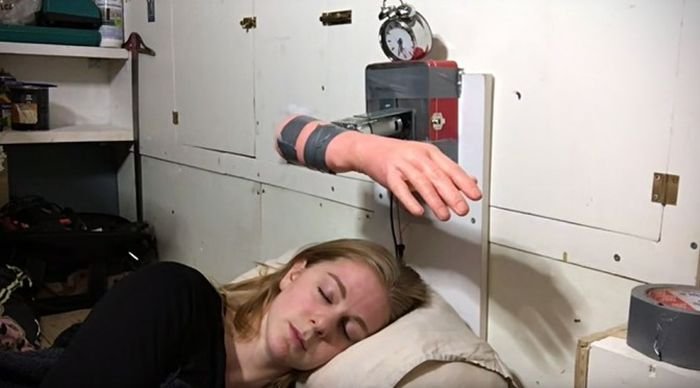 Worried already? Designers have been experimenting with the pitch and amplitude of sound of the alarm clocks for some time now. Just because we do not get used to the regular feature, here is another experiment to wake you up in a different way.
What is it ?
"The Wake-up Machine" as the name suggests is an alarm clock that literally slaps you to wake you up in the morning, as a fake rubber arm starts rotating at the set time. The user, lying underneath the arm, wakes up in a shock (at least initially), when the arm swings and slaps you repeatedly.
The idea :
A young crazy girl in her mid 20s, Simone Giertz, is the inventor of the gadget. She was keen on cutting the monotony of the regular alarm clocks, so she went a bit crazy in designing The Wake-up Machine. The rubber arm and the hand used here was actually a Halloween prop. Simone cleaned the "painted blood" with a nail polish remover and cut off the ugly looking part at the end of the arm. For, she thought that being woken up by a slap on the face is a terrifying act in itself; therefore, there is no need to make the arm look horrifying.
The design :
Of course, it is a prototype and not a market ready gadget as of now. A regular alarm clock is attached to a bandage box, while L shaped hardware components hold a motor on the outside of the box. The rubber hand is attached to the motor, which gives it a spin for waking you up. There is a relay and an Arduino Uno circuit attached to the alarm clock, which rests outside on top of the box. It also features a powerful DC motor that rotates 165 times in a minute.
For those who find waking up in the morning difficult, The Wake-up Machine is the gadget that they badly need.
Via: Mikeshouts