MotoArt have previously dazzled us with their Jumbo 747 Sleeper – a boisterous bed component crafted from the real aircraft's part. And now the resourceful designers have made use of their creativity and a Boeing 747 nacelle for yet another type of furniture. The wondrous end result is the Boeing 747 Jumbo Jet Conference Table that proudly flaunts its robust credentials complemented by an aerodynamic essence.
In terms of structure, the imposing nacelle acts as the main support element, upon which the large mirror-polished, half-inch tempered glass-top is balanced. The large surface area of the glass (which is 12-ft wide) caters to 12 people, while being furnished with six (optional) data ports for their mobile devices. In other words, it is a conference table with the scale and style to back up the heavy-duty aircraft component.
The copious ambit is further bolstered by the visual scope of the Boeing 747 Jumbo Jet Conference Table. To that end, the nacelle features internal LED lighting along with a custom-modified engine stator. And, that's not all; the stator is grandiosely accompanied by an aluminum dome engine spinner from the famous bomber aircraft Boeing B-52.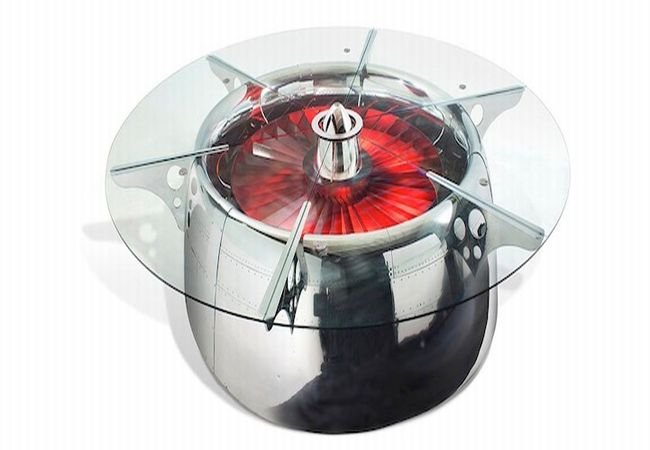 Price – On request. To know more about the retailing attributes, please follow the product page.
Via: MyModernMet