There are grills that can be hung from your apartment balcony and there are grills that can be packed like suitcases. But the act of BBQ grilling is also supposed to be a social experience with friends and family, and yet conventional grills come with their obtrusive lid. So aren't most grills missing out on their primary essence? Well, the 'David Rockwell by Caliber Grill' solves this social-oriented predicament with a uniquely open design that focuses on the communal side of affairs.
The design conception was the brainchild of David Rockwell and his acclaimed interior design firm Rockwell Group – who are responsible for various cross-disciplinary architectural projects, including hotels, restaurants and even sets for Broadway musicals. But this time around, they opted for something which is smaller in scale and yet much closer to our suburban weekend habits.
And, as we mentioned before, the design consideration was solely focused on bringing back that 'social' flavor of BBQ grilling. To that end, the contrivance exhibits a disappearing grill hood that allows for visual connection from all four sides of the grill (much like a regular table).
Of course, the novelty of the grill was at all easy to achieve. But the collaborators on the project – the Caliber engineers, made sure the ambit of openness was allowed without sacrificing on the functionality and the capacity of the outdoor grilling device. A part of this innovation is defined by the semi-circular 'canopy' mechanism that is entirely retractable, and also gets automatically locked when the hood is lifted. This interesting feature is accompanied by Caliber's trademark Cross-Flame burner technology, while being aesthetically complemented by exotic Brazilian cherry wood.
Unfortunately, the designers and engineers behind the incredible David Rockwell by Caliber Grill project has not divulged much info, as the contraption is still in the patent pending stage. But the aim of the endeavor is quite clear-cut and unpretentious, with David Rockwell clarifying the project goal in a succinct manner –
We are interested in all aspects of hospitality, from the preparation of food to the experience of eating. The core of dining—whether you're at a restaurant or at home – is sharing experiences with family and friends, and our grill goes to that.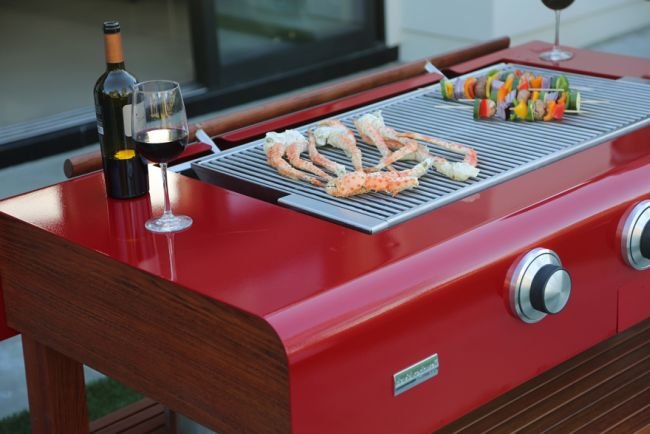 Price – expected to be around $9,500. For more info, visit the Caliber product page.
Via: Core77