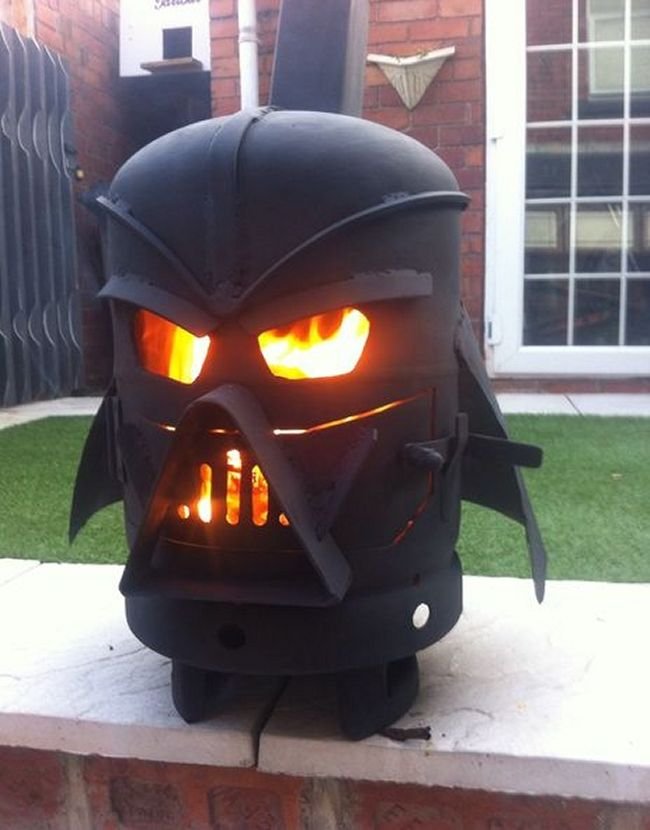 The force is always strong with Star Wars-themed products, as we have seen in many varied cases ranging from pillows, mugs to toothbrushes. But making your own DIY contrivance, and that too with the Sith-inspired essence of Darth Vader, really steals the groovy show. Fortunately, Instructables user 'doddieszoomer' has fashioned wings for your dark-sided creativity – with free guidelines to craft the utterly bad-ass 'Vader Gas Bottle Log Burner' for outdoors.
The resourceful designer has utilized one of those used propane canisters for the main body of this outdoor stove. The visage features, like those ominous eyes and the mechanical jaw, were then drawn over this bottle with the help of magic markers. Afterwards, the 3D details of the doomful mask were taken care of with salvaged parts of metal bits – that were strategically arranged and then placed over the propane bottle. These sections were welded together, and finally the resultant embodiment was given the infamously black paint job.
The cool factor about the Vader Gas Bottle Log Burner is how our crafty DIYer managed to integrate the subtle verticality of the propane canister as a part of Darth Vader's helm (though one would think a smaller container would have been more apt). And, the best part is – you can make your very own Sith-inspired design by following the simple guidelines here at Instructables.