Looking more like a high precision surgery equipment than just a cooking mechanism, the EveryCook is the progressive device for every futurist gourmet around the block. Of course, it is not only the impressive visuals we are talking about.
Rather it is the incredibly collective ambit of cooking technology exhibited by the EveryCook that entices and even baffles us on many levels.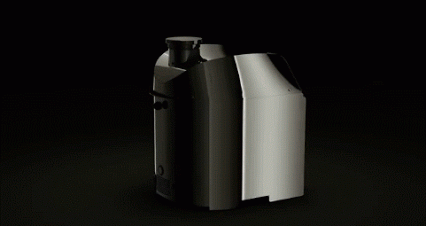 Almost alluding to the realm of science-fiction, the contraption is touted as the most 'Advanced Intelligent Cooking Device' in the world.
The crucial feature that fuels this bold epithet pertains to the device's autonomous ability to cook your food.
In other words, you just have to put in all the ingredients (in their correct measurements) and voila! The EveryCook cooks your meal without any guidance.
The core purpose is complemented by the smart attributes of the machine. This entails an entire internet-based eco system the helps the user in the cooking process, ranging from downloading the recipes to even guiding the consumer.
Furthermore, an embedded remote control mechanism allows you to access the EveryCook, along with its online database, from other mobile devices.
All of these innovative aspects are bolstered by an easy usability factor that aids users on basis of its intuitive interface. Moreover, the technology is being developed as an open source, thus giving opportunities to third parties to improve (or even hack) upon the already advanced ambit.
Now, so far, we have been harping about the revolutionary changes adopted by the autonomous cooking system. But all of these credentials would be futile if they remain in the conceptual stage. Fortunately, being boosted by practical attributes like pressure cooking ability, double wall design and induction heating capability (thus being 30 percent more energy efficient than regular cooking), the device will showcase its fair share of marketable features.
In fact, the EveryCook has already made its commercial debut at the crowd funded Indiegogo platform. The retail price is expected to be around the $999 mark for a fully-built EveryCook device, while it will drop to $699 for the whole set of modules that the users can arrange themselves.
Via: Gadgetify