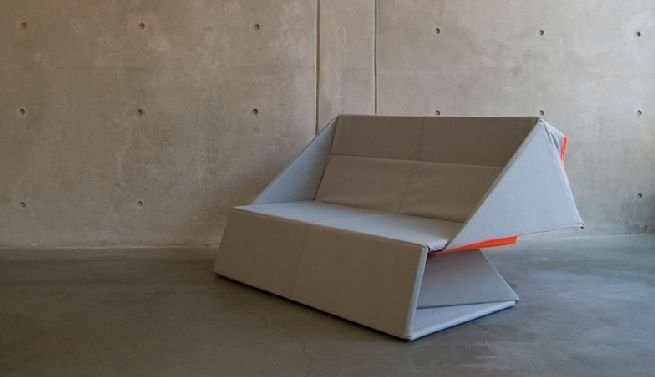 When it comes to sofas and couches, customers today are indeed spoiled for choice. Here in Home Harmonizing, we have talked about the elegant Lampo Motion convertible sofa. And then there is the HerbSofa that comes with convenient storage units. The latest addition to this league of space-saving, multipurpose furniture is the ingeniously-crafted Origami Sofa. Taking inspiration from the intricate Japanese art of paper folding, California-based furniture designer Yumi Yoshida has created a floor mat that in fact doubles as a sofa.

Structurally, it consists of several strengthened upholstery panels that are stitched inside two layers of fabric. The folds between the panels make them flexible, so that they can be easily set up into a two-seater couch.
The process of conversion of the mat into a settee begins by wrapping one end of the rug into two right-angled triangular boxes. The other end is then roughly folded into a box shape that will eventually become the seat portion of the Origami-styled Sofa.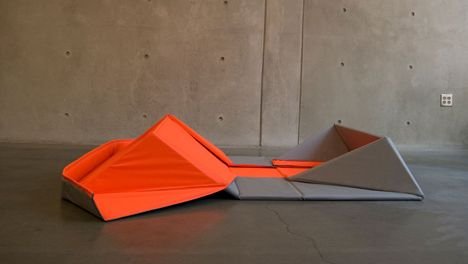 The pair of triangular boxes are opened onto themselves to form the upper part of the couch, comprising of the arm and backrest.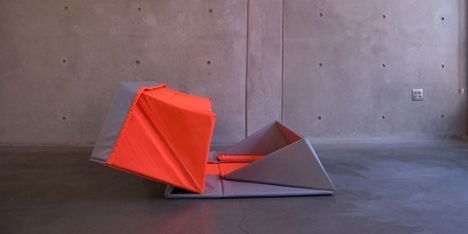 Finally back section of the folded mat is stacked on top of the other end, thus completing the construction of the furniture-piece.
Besides its smart, space-saving design, the Origami Sofa is also visually appealing. With flashes of bright orange showing from under the grey folds, the couch looks surprisingly stylish and chic. According to the Australian-born designer, the contrasting colors of the fabric not only mirror the different sides of the origami paper, but also accentuate the dual functions of the versatile sofa.
Via: Stupiddope / Dezeen