Here is an offering for the people who love the nomadic way of living. To one's astonishment, the Gali kitchen is relatively small but a complete kitchen. This single piece of furniture has almost everything you need in a kitchen. The credit of designing this stylish yet practical kitchen goes to Ana Arana.
Ana has put together a stainless steel sink with a stylish tap, an induction cooktop, a compact refrigerator, several drawers for storage and a single foldable table for dinning in a single block. The drawers operate quite smoothly as they move on the telescoping channels.
Ana Arana designed this modern kitchen keeping the singles in mind. Based on a research on the modern trends of food consumption and modern living, Ana created it. The research showed a steep rise in people living alone. Ana says, "My aim is to deliver a contemporary take on kitchen appliances."
She found that the people living alone required a compact kitchen, appropriate storage and they had less time. What fascinated Arana more was the custom of eating.
She observed that the trends and food habits of people are changing, especially the single living ones. In olden days there were big dining rooms, more number of people in the family, they would prefer to eat together. These days the trend is completely the opposite, a dining room is no more required. The single living people are habitual of eating anywhere in their small apartments. All this made her redo the kitchen model for the small apartments.
The beauty of this modern Gali Kitchen is that it can be disassembled into four units and carried anywhere by the user. Isn't it interesting? Now people have the liberty to take their compact kitchen with their baggage. The kitchen can fit in the room of your choice and add to the aesthetics.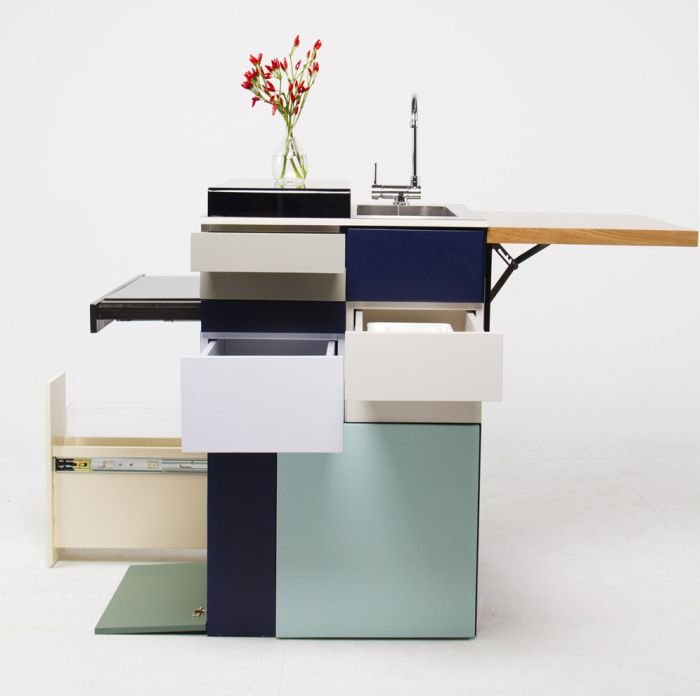 Via: Mocoloco