Our tryst with video game accessories isn't over by a long stretch. This time around, we have stumbled across the incredible Halo Energy Sword Lamp, a gorgeously geeky contrivance that mimics the traditional close quarter weapon of the Convenant (the Sangheili from the Halo universe).
Painstaking crafted by the designers from Etsy shop 'TheBackPackShoppe', the ominous looking dual sword assembly is made from laser-cut 1/8-inch acrylic with polished finish. The aesthetic scope pertains to a bluish ambiance, with the blades exhibiting a translucent sky-blue tint and the handle showcasing a complementary deep blue color. This according to the creators, endows a 'very clean look' to the deftly finished end product.
The cool looking blades can also be detached from the base handle to be used as pretend weapons against your fantastical adversaries. But be warned – the acrylic points are pretty sharp, and it is advised to safely wield them when you are having a field day in your space-fueled reverie.
Lastly, the Halo Energy Sword Lamp requires a bit of assembling on the part of the user. The detachable blades can be easily fixed to the base with the help of bolts, screwdriver and wrench. So, it is all a matter of minutes before you can impress your Xbox buddies with the gloriously futuristic lighting contraption.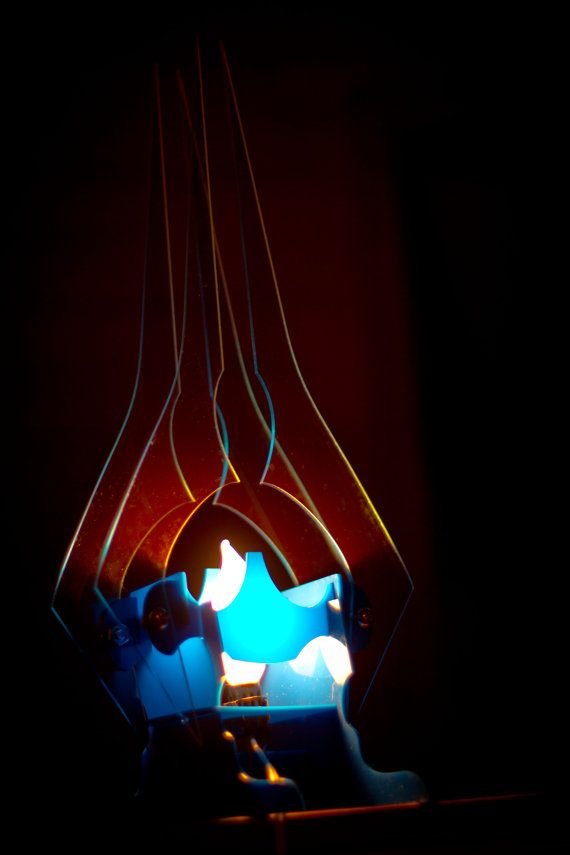 Buy – $54
For more fascinating accessories, do give a gander at TheBackPackShoppe (Etsy).