Serenity, minimalism and modernity – all have their crucial places in the contemporary architectural state of affairs, as handily proven by the above pictured black-hued house from studio High Land Design. Showcasing a nigh monolithic embodiment, the 50 sq m (around 540 sq ft) residence strikingly flanks a busy thoroughfare in Aoto, Katsushika Tokyo. And, that is not the only striking feature of the house; its contiguous dark facades of the outer skin visually contrast with the white-tinted spatial zones on the inside.
In terms of elevation, the dwelling has three floors (with total floor area of 144 sq m), with well thought out spatial zones being distributed among the individual levels. For example, the ground floor with its 'semi-private' nature boasts of garage and work spaces. The second floor continues with the inclusion of the dining and living spaces. And the most-secluded top floor takes advantage of its privacy-oriented credential by incorporating the master bedroom and an additional parlor.
The other interesting aspect of the abode its its seemingly disparate arrangement of rectangular windows along the outer facade. But on closer inspection, one would find out that these openings are quite strategic in nature with their orientations designed in a tact manner so as to induct the maximum magnitudes of natural light.
This scope of natural lighting is obviously complemented by the whitish hues of the inner facades that include walls, geometric staircases and even the soft-board flooring on every level. In other words, it is all about the serene ambiance inside – which in some parts are aided by the physical design considerations of the architects themselves.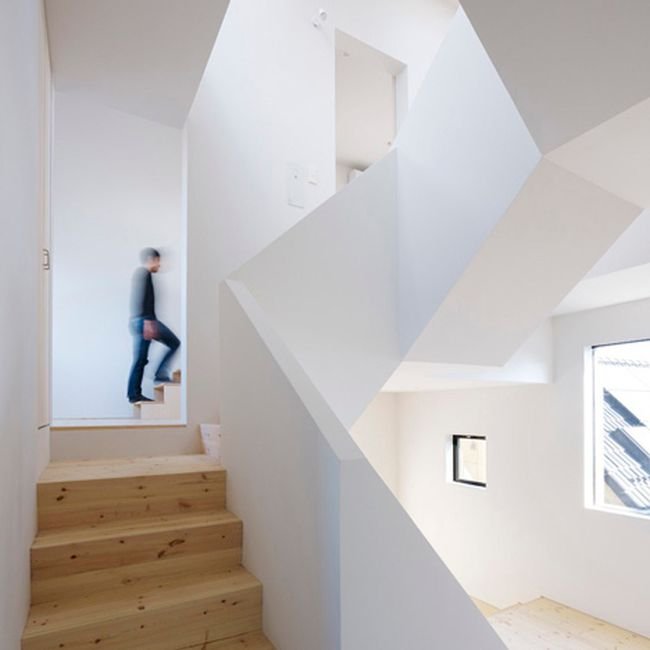 Via: Syahdiar