The handy synthesis of natural materials and technological applications – the Kitchen Workstation In Bamboo (KWIB) is yet another fascinating kitchen accessory from the design shop of Dale Rorabaugh. Envisaged as a compact workstation/docker that can effectively hold on to both your tablet AND smartphone, the 'piece de resistance' of the design is surely its bamboo-made credential.
The KWIB is crafted in such a way so as to make ample room for both of your devices in their portrait or landscape modes. This easy arrangement is complemented by the finishing details of the inclined bamboo board itself, which showcases its delightfully etched striped-patterns and protruding (and strategically placed) knobs that amiably support the mobile devices.
However, there is more to the KWIB than just the copacetic display of bamboo. In terms of usage pattern, the magnitude of inclination of the board can be adjusted to respective angles of 45, 35 and 25 degrees. This is done via a ball knob arm, made from hardy maple wood, that can be screwed into any one of the three inserts placed underneath the board (see above image).
In a similar inconspicuous fashion, the kitchen workstation boasts of its own wire management system accompanied by nylon cable clips. The assembly aids you in hiding the paraphernalia of wires emerging from the mobile devices, while at the same time helping you to charge them even when you are preparing your meals.
The entire scope of convenience is bolstered by a LED mechanism that is a typical element found in many designs from Dale Rorabaugh. This optional goose-neck lighting fixture flaunts its super bright 15 LED strip that not only illuminates the board surface but also accounts for a soft glow of kitchen light during those stealthy sessions of late night snacking.
And, if you thought that was cool; well, the KWIB also integrates an optional Bluetooth mini speaker that can be placed on the corner of the board surface. Interestingly enough, the wireless high-fidelity speaker makes use of the enhanced acoustic properties of bamboo to amplify its sound effects from iTunes or radio.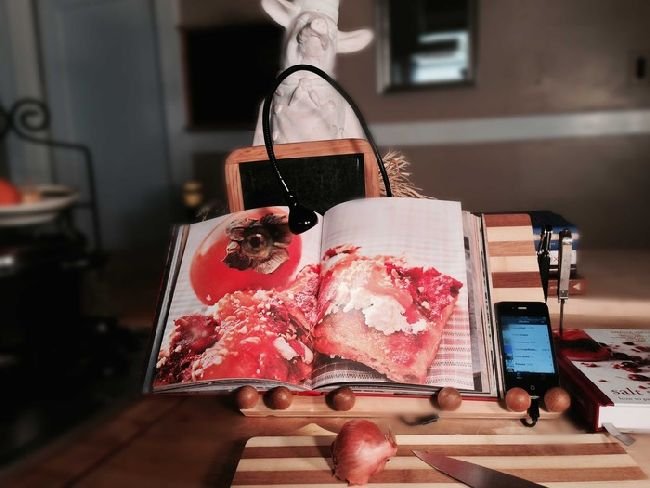 The eco-friendly Kitchen Bamboo Workstation is currently going through its Kickstarter campaign, with pledges ranging from $35 to $185.
For buying other Dale Rorabaugh designed products, you can refer to his retail site.
Thanks, Dale Rorabaugh.