Friendship sometimes does have its value beyond getting a drink together and reminiscing about old times. For four couples from Austin, Texas, who have known each other for over 20 years, this intangible value translated to a whole new weekend getaway project. Their fascinating endeavor was hatched when the friends went on a vacation in Llano, which is located along the Llano River west of Austin. And as destiny has a tendency to reserve surprises for us; they were immediately enticed by the secluded prospect of the land, and purchased the strip after a month later.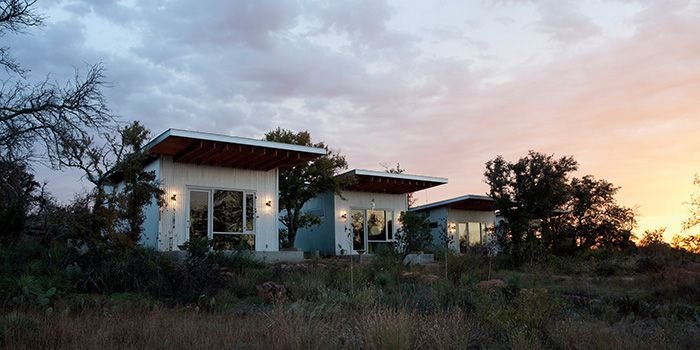 Of course, all of these entailed the easy part; the hard part came when they decided to transform the parcel of the 'wildly' paradisiacal land into their sheltered spot of solitude and relaxation. Fortunately, architect Matt Garcia stepped into the picture, and their collaborative effort resulted in a remarkable network of private cabins and common spaces.
The specific orientation of these cabins were adapted to primarily achieve two purposes – to endow a sense of privacy to the inhabitants and to maximize the gorgeous viewpoints from these individual spots. Such directional attributes also complements the spatial scope of the plot, with each cabin accounting for 350 sq ft (and built with a cost of around $40,000). These four shelters are further bolstered by a 1,500 sq ft common area, which houses the large kitchen and an entertainment room.
However, beyond the essence of privacy and landscape denominations, it is the level of energy efficiency that has really tickled our fancy. As we can make out from the images, the exterior of the cabins exhibit corrugated steel linings with high reflective quality and low maintenance requirement. On the other hand, the interiors provide the inhabitants with the contrast of 'warm' grained plywood and simply poured concrete floors.
These passive, low impact architectural techniques are accompanied by the usage of spray foam insulation, thermally broken windows and Energy Star appliances. And finally, to notch it up on the self-sustaining ambit, each shelter structure also boasts of its very own rainwater collection tank.
Via: GardenandGun