A compact hinged toolbox all the way from Germany is what is making news these days. Originally designed by German furniture-maker Domini Design, the Mobile Box was brought into public view by  Matthias Wandel, Canada-based master woodworker and creative genius behind Woodgears.
When Wandel visited the workshop of Gregor Bruhn, owner of cabinet and furniture building company Hand Werk, the first thing that caught his eye was a basic, rectangular wooden tool chest with a super clever hinge-operated carrying handle.
When the box is opened, the handle stays on the inside, making it look weirdly flawed. This is where the hinge works its magic.
What looks like a hinge is essentially a four bar linkage which flips the lid over the handle when the toolbox is closed. In his YouTube video, Wandel shows the mechanism working behind this uniquely nifty hinge linkage.
The Mobile Box is built with sturdy plywood made of painted beech wood, while the powder-coated steel hinge set comes in glossy black finish.
The tool chest is available in a number of different sizes. We have Mobile Box 43, which is the smallest kind. It is ideal for carpentry novices and those not in much need of toolboxes.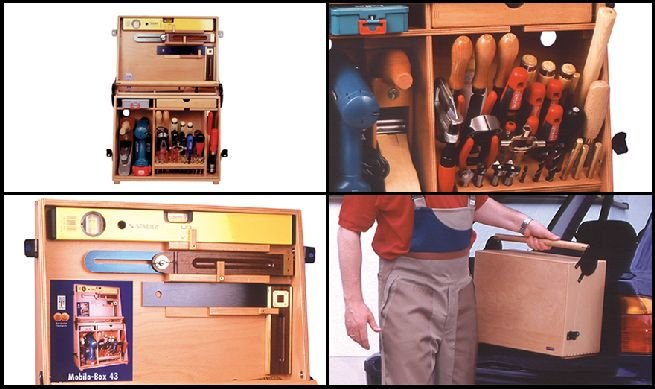 The standard-sized Mobile Box 53 is second in line and is indeed perfect for serious workers.
Mobile Box 63 is the largest option, with elaborate tool compartments and a mounting strip that allows users to hang the toolbox on the wall or inside their car.
Although dimensionally similar to Mobile Box 63, the Mobile Box 63 Classic comes equipped with the extra feature of a rolling chassis that makes it easily transportable.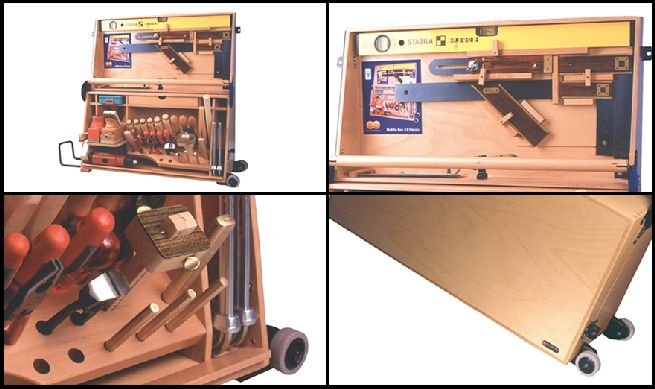 The makers also provide their Mobilos fully laden with tool sets from leading market producers, like Stabila, Knipex and Picard among others. The price of these handy toolboxes range from €203 for the smallest version to €720 for a Mobile Box 63 Classic, fitted with all the required tools.
Since American distributors for the Mobile Box are currently unavailable, interested buyers can check Domini Design's website.
Via: Core77