If the malevolent essence of Cthulhu doesn't work for you, what about the uprightness of the Optimus Prime? Fortuitously, that is what Etsy-based shop 3rdEdgeStainedGlass has achieved with their glorious rendition of the one and only handcrafted Optimus Prime lamp.
The lamp's facades are crafted from gorgeous Tiffany stained glass pieces, and then reinforced with copper foil and soldering. The end result is a robotic visage that is visually resplendent in its bearing, and veritably unique in its artfulness. In fact, the intentional austerity exhibited by the external stained glass facades endows it with a 'Church-like' quality. This design approach does resonate with the sense of virtue associated with Optimus Prime's character in the Transformers universe.
As for the creation process, the designers took more than 80 hours to handcraft the entire lamp assembly. Consequently, the hefty price tag of $1,150 comes as no big surprise; especially given its status as a collector's item.
And, since we have been harping about uprightness and virtue, the shop also has a collection of other 'heroic' lamp contrivances, including – Captain America's shield, Master Chief's visage, Judge Dredd's head, and the 'slightly' villainous Boba Fett's helm.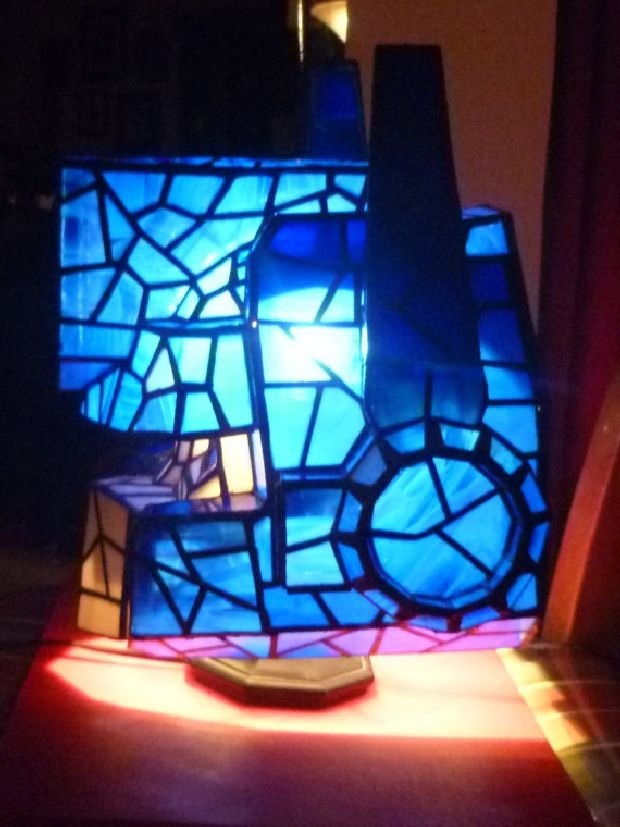 You can take a gander at all these special stained glass lamp designs by following this Etsy link.
Dimensions of the Optimus Prime lamp – 14-inches (h) x 12-inches (w) x 12-inches (d)
Via: TechnaBob