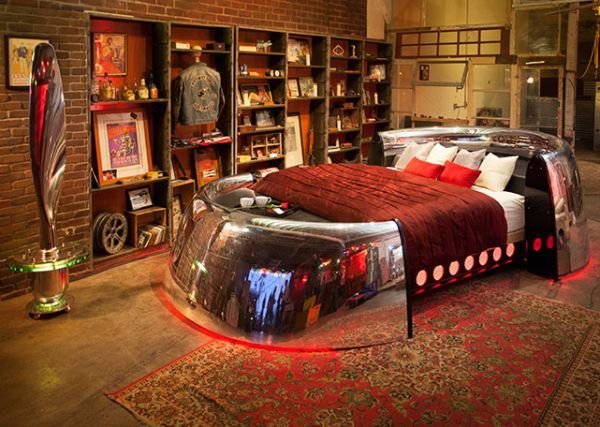 MotoArt has struck once again to give wings to your bed! Well, not quite in a literal sense, but surely the closest thing to the real deal. The California-based studio boasts of expertise in using real aircraft parts for their furniture, and this time around they have went for an authentic Boeing 747 component. The glorious end result is the Jumbo 747 Sleeper flaunting its boisterous nacelle body.
As many of us aircraft aficionados would know, the nacelle is actually the main housing for engines that is located beside the fuselage. In this case, the nacelle was used to house a robust split GE engine. And now it has been upcycled to provide a magnificent embodiment to the bed design.
The grandeur of the Jumbo 747 Sleeper is however not just limited to its aircraft-inspired credentials. The contrivance also vaunts its high-class features in the forms of padded leather (for both headboards and footboards), programmable neon-like lighting and a customized frame with heavy load capacity.
So, at the end of the day, it all about the superlative form complementing a host of nifty aspects.
Sized – To fit King or California King mattresses.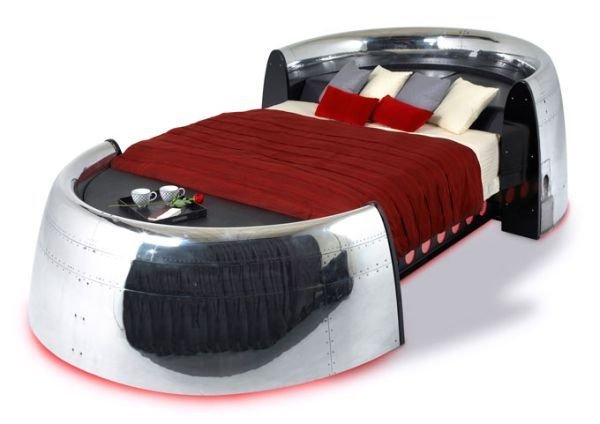 Price – On request