The poetic progression from organic asymmetry to the man-made geometry – the ONYX Sofa designed by Pierre Gimbergues (for Peugeot Design Lab) proudly flaunts its hard-hitting elegance. The contrasting transformation of the form was deftly achieved by the use of Volvic lava for the rough-hewed section and the use for carbon fiber for the geometric section.
In terms of design scope, the 3 m long ONYX Sofa belongs to an entire collection of similarly stylized furniture creations that are tailored to the individuality of the patrons. The aesthetic manifesto is quite clear – the graceful antithesis of materials being showcased in a superior and symbolic manner. Hence, the end results lead to the gorgeous fusion of technological components (that include carbon, fiberglass and aluminum) and more natural items (like rocks, wood and crystal stones).
Coming back to the composition of the ONYX sofa, the Volvic lava that defines the organic side of the furniture, was painstakingly hand chiseled and polished to be morphed into a sofa-like seat. In fact, the rock was salvaged from a natural specimen that for years had filtered water sources. On the other hand, the carbon fiber was crafted with an impeccable structural capacity, thus aptly clashing with the 'disorganized' embodiment of the rock.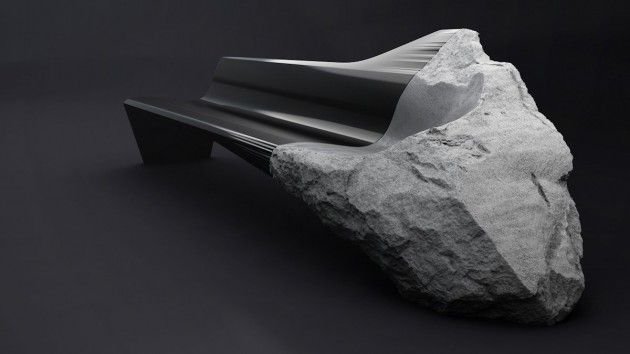 Via: Contemporist