Waking up early in the morning is surely a daunting task for many of us. But even more discouraging is the thought of waking up to those dastardly annoying noises of the alarm clock. In fact, scientific opinions do tilt towards the benefit of waking up 'naturally' by the effect of light, because that is how our body is supposedly conditioned.
Philips HF3520 takes advantage of this naturalistic scope to emerge as a Wake-Up Light that simulates the effect of a soothing early sunrise. In that regard, the color changing mechanism boasts of multiple lighting effects that can be achieved with 20 different brightness settings. The intensity of the light gradually starts to increase about 40 minutes before alarm time, to credibly mimic the pattern of the sun rising in its effulgent glory.
The lighting fixture is also complemented by five variant kinds of built-in sound effects that are inspired by nature. In fact, the combination of the audio and visual attributes equates to an optimized alarm system that wakes you up in the most pleasant manner possible.
At the end of the day, conventional alarm clocks are responsible for those bothersome episodes where irritating noises alert you on the physical level, but do not solve your state of stress and drowsiness. The Philips HF3520 acts as a nifty solution for such mental predicaments, and that too by eschewing the adverse effects of direct ultra-violet rays.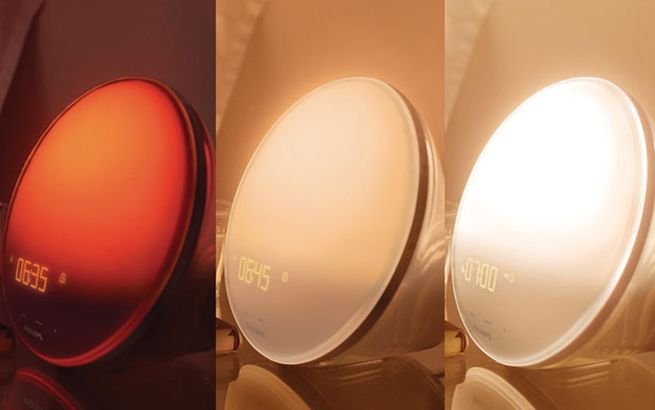 Price – $176. For buying details, refer to this Amazon link.
Via: Tuvie