What if there was a credible furniture piece you could 'play and tinker' with by actually altering its physical form? The above pictured Puzzle table answers this quirky question with its own brand of whimsical brilliance. Designed by A2OFFICE studio architect Alberto Dias Ribeiro, the handcrafted coffee table comprises of a host of detachable cubes that make up a bigger cube.
In terms of structure, the Puzzle table is made from five major components; among them four are removable and the remaining one is the core component. The users can combine and arrange these components to create a solid cube, or its various related forms with voids along the middle sections (as shown in the images).
This unique level of user interaction is only possible because of the modular 125 small cubes that make up the furniture. And more importantly, the value of the Puzzle table goes beyond its mind-bending aesthetics as just a decor showpiece.
Users can actually contrive their furniture shape to suit their purpose and practical scenarios. For example, chunks of blocks can be re-arranged to give birth to a new seating assembly or a dedicated space for storage.
All of these multi-purpose credentials are bolstered by the Puzzle table's robust attributes. This is because the coffee table is made from MDF (medium-density fiberboard), an engineered wood variety known for its higher density and strength when compared to conventional plywood.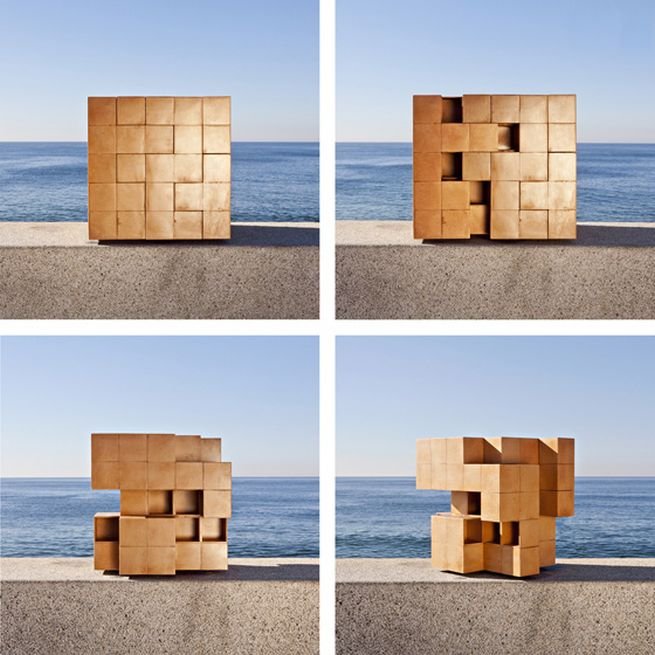 Dimensions – 500 x500 x 500 (in mm)
Via: DailyTonic