What might look like a pristine slab of wood is much more than that meets the eye. Christened as the Kai Table, the design of the furniture is directly inspired by 'himitsubako' Japanese puzzle boxes. So what does that entail? Well, the fascinating table boasts of an assortment of hidden compartments that are effectively functional as discreet storage spaces.
An ingeniously contrived brainchild of designers Naoki Hirakoso and Takamitsu Kitahara, the unassuming contrivance has its sliding side-panels that open up to enticingly reveal adequate drawers. These drawers can be used for keeping the stuff needed in our daily lives, like – mobile phone chargers, USB cords, work files and other small items.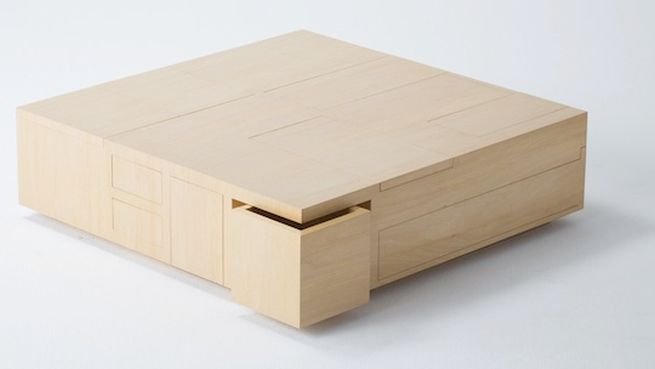 The remarkable storage capacity of the Kai Table however doesn't end there. As we go 'deeper into the rabbit hole', the enthralling furniture piece reveals even more inconspicuous compartments. These hidden spaces comprise of mini chambers and sections that can used for safely storing precious items of your home office.
So, at the end of the day, the Kai Table is engineered to impress us with its multi-purpose cabinet structure. The great thing about this adroit design ambit is – all these components are usable in their own scope, but they can be collectively organized to embody a seamless table arrangement.
The functional attributes are equally complemented by the unobtrusive aesthetics of the Kai Table. This overall simplistic essence is partially derived from the use of plywood coated with Tilia Japonica timber.
Dimensions – 900 x 900 x 270mm
Price – $8,032. For placing orders, please refer to this link.