Taking the DIY route has its own degree of satisfaction. However, achieving a gorgeous DIY project, and that too under dirt-cheap conditions rather notches it up on the fulfillment level.
Well, the above picture wall mounted shelving system definitely belongs to the second category, as the artistic piece was actually created by spending less than $10.
Crafted by Redditor 'coolnicknamehere', the entire shelf was crafted from pine wood sections safely glued to each other. The gluing procedure was improved by actually arranging and then clamping these sections against sturdy aluminum bars (which prevented them from slipping).
The projecting shelf components were then glued to main back boards (now, constituting of an assembled framework) by the similar process of clamping, while care was taken to match their wood grains.
As for the wall mounting feature, the designer made use of some douglas fir scrap 1×2 boards. They were cut into two pairs of identical sections (total of four), each of 17 cm length; and then drilled for driving the screws.
This allowed the fixing of one 1×2 board to the wall, while the other one was screwed to the shelving system. A similar arrangement was made at two strategic corners of the shelving system, thus making use of all four 1×2 boards (see the images for reference).
The end result was the completion of both the shelving system and its wall mounting feature. The positioning of the douglas fir boards and the alignment of the construction sort of gives it a surreal 'floating' like characteristic.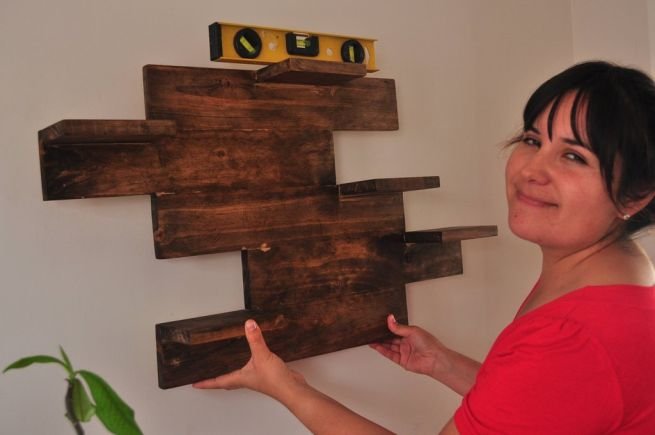 Finally, the decor element was further accentuated by utilizing the darker hue of the pine wood to contrast with the white wall background.
Via: Reddit