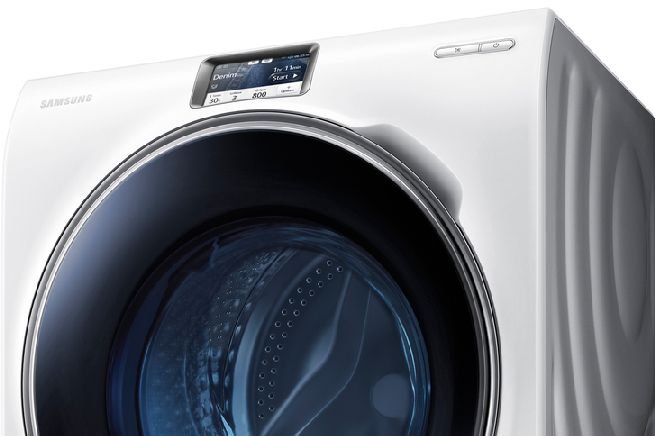 At its European Forum 2014 held in Malaga Spain, Samsung presented the Granddaddy of smart washing machines. With its remote connectivity feature known as the Smart Control and highly intuitive technology, the Samsung WW9000 Smart Washing Machine is unlike the plethora of washing machines that are currently crowding the market.
The most attractive element in this washing machine is that it offers you the freedom to remotely access and control all its functions from your smartphone, no matter where you are or what you are doing. You can pause and start a washing cycle without being anywhere near the machine. It will also keep you informed about the last cycle and the remaining cycle-time through notifications on your phone.
You can choose from a variety of washing cycles, such as 'Gardening', 'Cooking and Dining' cycle, 'Hygiene Care', 'Active Sports', 'Active Kids' and 'Working and Everyday', to ensure optimal wash every time. For the days when you don't have enough time to do the laundry, just select the Super Speed Wash option and you will done in under 60 minutes. The washing machine is energy efficient and runs smoothly without much noise or vibration.
The large 5-inch colour touchscreen control in the front makes this washing machine extremely interactive and easy-to-use. It has some really intuitive features,  like the 'Most Used' option that remembers the washing cycles that are most frequently used, and also the 'Favourites' that allows you to personalize your washing cycle by customizing temperature and spin speed settings.
Design-wise, Samsung  WW9000 Smart Washing Machine is simple, yet elegant. In place of unnecessary lines, buttons and knobs, we have an uncluttered smooth surface with delicate curves. The translucent deep blue crystal finish indeed makes it look all the more posh.
The Samsung WW9000 Smart Washing Machine will be available in the market from May 2014, although information regarding its price has not yet been properly disclosed.
Via Pocket-lint