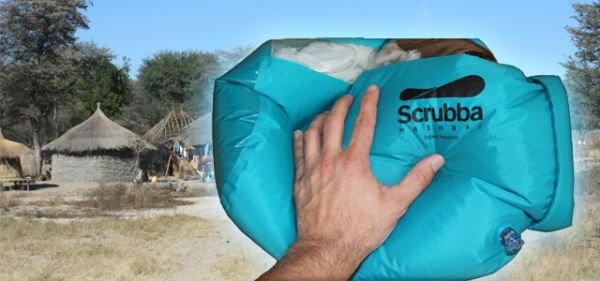 Water saving mechanisms are always technologically commendable  given the scarcity of water resources faced by people in many parts of our modern world. However, when such conceptions have that dash of practicality infused in them, the mechanisms also score high on the conscientious side of affairs. In this regard, the cloth washing 'Scrubba' bag tickles our fancy with its simple yet efficient design considerations.
Touted as an ultra portable, lightweight bag, the aptly christened Scrubba allows washing of clothing material with minimum level of water wastage. In fact, the working of the design entails washing of several clothing items at a single go with utilization of just 2 liters of water and some soap. The user just needs to put these components inside the extendable bag and then rub it vigorously for around 30 seconds. The internal structure of Scrubba is embedded with minuscule modules that help in 'scrubbing' off the dirt from the clothes. Of course, once the soap laden water is removed from the container, the bag is good to go for another round of washing.
The practical side to the conception is that this compact bag (crafted from light yet hardy materials) can be totally folded and fitted into personal storage spaces like your jacket's large pockets. This intrinsic degree of portability means that the design is commercially aimed towards outdoor enthusiasts, be it travelers, campers or ever trekkers. And, since we are talking about the commercial scheme of things, the Scrubba will set you back by around AUD 59.95 (or roughly US $56.55).
Via: SpringWise