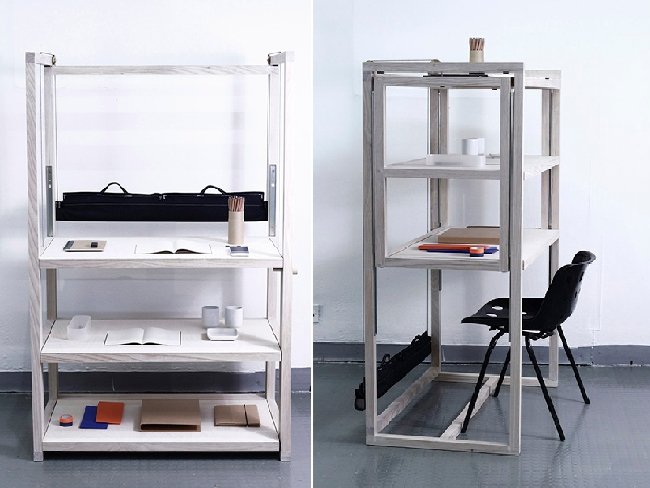 The only problem with small apartments is, you need furniture that can solve more than just one primary objective. Over the years, home furniture has seen tremendous makeover, and one particular type, which has been in most demand is transforming/shape-changing furniture. When most storage furniture is still limited in terms of functionality, Matej Chabera has designed Shelf of Tables – a storage rack with a unique pulley system that transforms into a workstation.
The wonderful timber structure blends storage and work desk into one simple unit that essentially fits three desks in space of one. Each desk can be easily accessed; while the higher shelves can be used to work in standing position, the shelf in the middle can be used as a workstation with a normal chair. An additional benefit of the Shelf of Tables is that it can be accessed by wheelchair users from one place, both safely and easily.
To facilitate an easy movement and regulate the height of the work surface, the Shelf of Tables uses standard ball-bearing runners – a pulley system – that works on the principle of counter-weight and constant friction. The three comfortable writing desk/shelf heights can be achieved with three levels of counter-weight on the rear. By overloading the counter-weight, the unit can be transformed into stable shelves (resistance on the rear depends on the load on the shelf).
All shelves in the unit can move up and down, and can also be removed (to make leg space), offering more flexibility for accessing the work desk. The bottom and the middle shelves can move to a really low position to serve as work desk for kids.